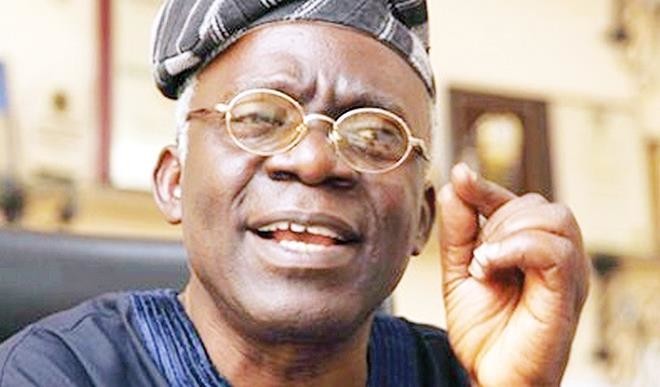 Femi Falana, a human rights lawyer and Senior Advocate of Nigeria (SAN), has accused the Abuja High Court of concluding plans to condemn Omoyele Sowore, before trial pointing out that that arrangement has been made to obtain evidence from some witnesses in secret.
Falana said that all the hearing in court should be in the open and that if there was any reason to obtain witness evidence in camera, an application should be made in public. He said that it was even disheartening that the court pretended not to know.
He said that prosecutors had connived with the court to get evidence behind closed doors and the Judge pretended not to know in her own court.
He also said that he was reliably told that the application was made before the Deputy Chief Registrar, yet the Judge denied knowledge.
READ ALSO: Bail Order: Nobody Has Come For Sowore – DSS … I Will Send Lawyers In The Morning – Falana
While speaking at public presentation of a book, "Testimony Of Courage", Keeping Power In Check" in Lagos on Thursday night, the lawyer said that it was spurious that the evidences of their witnesses were not there even when Sowore had the evidences of all his witnesses, maintaining that it was the same reason that they had requested for the adjournment of the case, stressing that they were not ready to go back to that court, after all Sowore did not commit any offence in Abuja.
He said that they had planned to punish Sowore, a situation where someone would not be sent to prison but confined to Abuja, noting that in his 37 years of legal practice he had not seen what he witnessed in court on Wednesday.
Falana said that they claimed that none of Sowore's friends, and associates was ready to stand surety for him and had made every arrangement to intimidate him and treat him they way they had deemed fit.
He appealed to the media to stand up against injustice because the predators were not going to spare anyone, stressing that very soon they would roll out their third term agenda.
The legal luminary said it was illegal for Bills to be signed outside the chambers of the National Assembly as witnessed recently when the amended bill of the Deep offshore was signed by President Muhammadu Buhari in London.