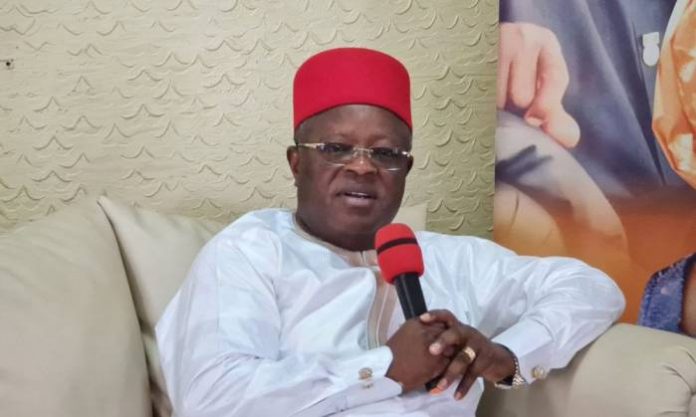 Gov. David Umahi of Ebonyi state, has said that he prayed for Sen. Bola Tinubu of the All Progressives Congress (APC) to win the presidential election of February 25.
Umahi said this on Tuesday in Abakaliki, while addressing stakeholders and people of Izzi clan ahead of the March 11 Governorship and House of Assembly polls.
He said that he did not hide his supplications to God that Tinubu and all the APC candidates should win at the polls.
"I prayed to God to bring Tinubu on board, give me a voice to stand with the people and bring unity to Nigeria.
"I promised God that I will fight a battle to re-unite this country and bring peace and prosperity to it.
"This is my pledge to God and I will do it because it is time for the leaders of this country to make sacrifices.
"The situation is bad, the country's resources can develop it, with Ebonyi being an example," the governor said.
He urged the Igbo people to support the government in power in their various states of abode for them to have peace.
READ ALSO: Shun Corruption, Retiring Justice Admonishes Judiciary
"Ndigbo should support APC governors in particular, support Babajide Sanwo-Olu in Lagos and Nyesom Wike in Rivers, among others.
"It is where a man lives that he prospers as you can't be staying in a place and plot against its people," he said.
Umahi urged the Izzi people to be united to win the gubernatorial poll because it was their turn according to the existing charter of equity in the state.
"I cannot support anybody from the Southern Senatoeual District as myself to succed me.
"Anybody from Izzi supporting someone from the south to become governor is not normal but you should not fight such a person.
"Such a person has already destroyed him or herself because this is pay back time for you for supporting the south in 2015," Umahi said.
The Chairman of Abakaliki Local Government Area, Mr. Ebere Nwogba, thanked the governor for convening the meeting, saying that they appreciated his good intentions towards them.
Prominent persons from the area took turn to thank the governor for fulfilling his promise to support one of their own to succeed him. (NAN)