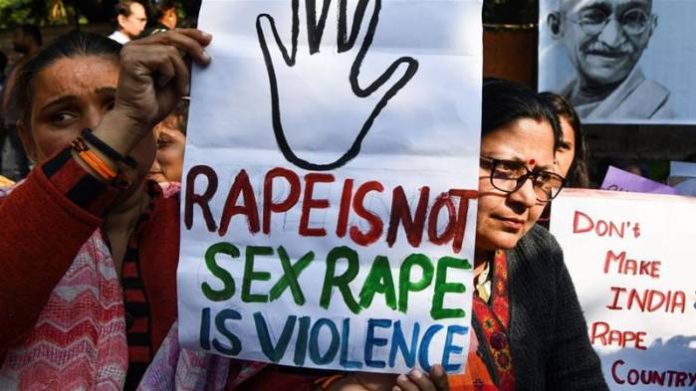 Indian police have shot dead four men suspected of raping and killing a young female vet in Hyderabad last week.
The men were in police detention and were taken back to the scene of the crime in the early hours of Friday.
The suspects were shot when they tried to steal the officers' guns and escape, police told BBC.
The 27-year-old victim's charred remains were discovered last Thursday – leading to outrage and protests over alleged police inaction.
After news of the killings broke, the victim's mother told the BBC that "justice has been done".
Meanwhile, neighbours celebrated with firecrackers, and thousands of people took to the streets to hail the police.
Cyberabad police commissioner VC Sajjanar told BBC that police took the accused to the scene to reconstruct the crime.
Police shot the men when they tried to grab the officers' guns and escape, he said.
Two police officers were also injured.
The police were heavily criticised after the rape and murder of the vet – particularly when the victim's family accused them of inaction for two hours.
BBC visited the family in their home, where neighbours could be seen celebrating the news by bursting firecrackers and distributing sweets.
READ ALSO: Blind Schoolgirl, 15, Raped By Two Of Her Teachers
On how she felt upon hearing the news that her daughters killers have been killed, the victim's mother said: "I can't put it into words. I felt happiness but also grief because my daughter will never come home.
"My daughter's soul is at peace now. Justice has been done. I never thought we would get justice. No other girl should experience what my daughter did."
The mother added that she wants the law on sexual assault and rape to be "stricter".
"Men should be scared to even stare at women – because they will be punished."
The victim's sister said the police action was "very unexpected".
"I was expecting court trials and the court to deliver justice. This will not bring my sister back, but it is a great relief. Because of the police action, people will think twice before they do something like this again," she said.
News of the police action has been widely celebrated on social media.
Many took to Twitter and Facebook to applaud the police, saying they "delivered justice".
The mother of a student who died after being gang-raped on a bus in capital Delhi in 2012 has also hailed the killing.
"I am extremely happy with this punishment. Police have done a great job," she told ANI news agency.
Source: BBC