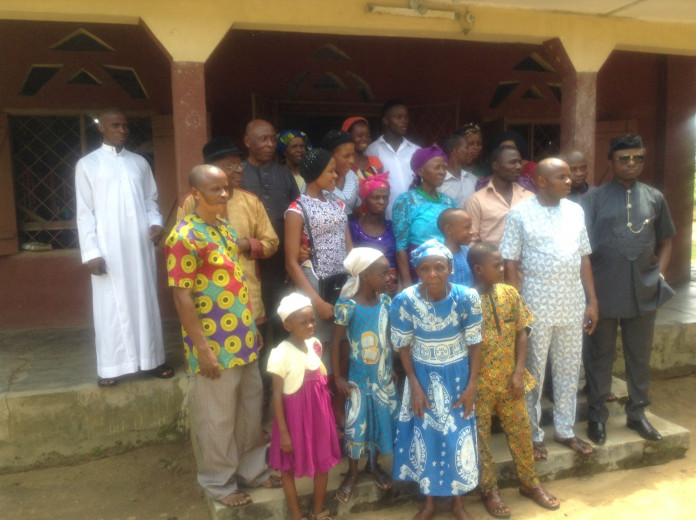 At 90, Agnes Akpan Udofia, a native of Ikot Udobia in Etinan Local Government Area of Akwa Ibom State, is still a virgin. Apart from the fact that she was born without sight, those who know said she has never had a conjugal relationship and therefore, had no child of her own.
But they say she spent all her life taking care of other people's children. Parents dropped their children with her when traveling or going to farm or to fetch water in the local stream. Even when she never gave birth, she is said to have groomed more than 50 children most of who have become successful men and women in the society.
Our correspondent met the beautiful nonagenarian shortly after a thanksgiving ceremony which was organised for her by some of the children she had nursed. The programme took place in Ikot Udobia on May 21 and was attended by people from far and near.
Speaking through her younger brother, Bernard, who served as an interpreter, she exuded so much candour and charm, one wouldn't believe she is physically challenged. Asked her age, she responded, "I was born many years ago. I can't say exactly but my elder brother is over 90 years-old and so I should also be more than 90 now."
Asked to speak about her love life, she smiled and shook her head before giving one of the frankest but heart-rending stories of her struggles with life. "I have never known anything like a man in my entire life, not to talk of a husband. I have never been married, no relationship with any man, no boyfriend even when I was young," she recalled, still smiling. "I was born partially blind and so no man saw anything good in me. I grew up without the feeling of a man. I have never slept with any man as far as my memory can carry me, not even in my dream."
As a young girl, she said she was converted to Christianity by some Catholic reverend sisters of Irish origin Irish, who were serving in the then Convent School at Ikot Udo Ntuen. "After service every Sunday, they came to our house to take me to the Convent in the evening. Those were the kind of friends I had. I was not given to immoral discussions, it was all about Holy Mary and the Child of God, Jesus," she reminisced.
Although she had no biological child, she said her greatest love was taking care of children. Knowing how well she loves children, mothers throughout her community dropped their kids with her. "I enjoy taking care of little children between the ages four to 10. Mothers who have children will drop them with me when they are going to farm, market or fetch water. I will take care of them until they return. I fed them and made them happy as long as they stayed with me," she told this newspaper.
On how she sourced food for the children, she replied, "I don't have a farm nor do any business. Parents brought food that would sustain their children till they return from wherever they had gone. Apart from taking care of children, I also cracked palm kneels for my late parents and kept the compound clean."
Agnes doesn't keep a record of the number of children she had taken care of but said the crowd that turned out to celebrate her during her thanksgiving service, showed she had touched so many lives within and outside her immediate community. Reliving her joy during the Thanksgiving Sservice, she said, "Look at the crowd that came to celebrate me in the church. Majority we people I touched their lives when they were babies. Some of them are outside the village and couldn't come for one reason or the other but they contributed in making today memorable."
At 90, Agnes said she is happy and fulfilled seeing some of the children she groomed being very successful, owning car, houses, and families. "I see the children I took care now owning cars, houses and doing well in their various engagements. I see all of them as my children. I always feel happy whenever I see children," she said smiling.
Asked whether she has any regret in life, her answer was a resounding "No," but noted she would get answers from God on why she had to live the way she did. "No, no regret," she began, "In the first place, I don't know what to regret. My belief is that I was created by God to live and die without a husband, child and anything to call my own. "I see things in and around me as normal. I never hated men neither did the men hate me but we never met. I lived my life the way you see me. No feeling for a man. I don't see it as either normal or abnormal.
"Maybe I will get better answers from God when I eventually transit to meet him. But I know I was created by God not to get a man in my life in the name of husband or children. I don't know the meaning of frustration and broken home. I don't have any of such past."
One of those who grew up under the care of the nonagenarian, Fabian Udoh, described her an "exceptional gift to the community." Mr. Udo said the community and Agnes' foster children decided to celebrate her on May 2, in recognition of her contribution to people within and outside the area.
"She has touched the lives of over 50 children. I have known her not to have any relationship with any man," Mr. Udo said. "We are proposing a foundation to immortalize her. We all decided to celebrate her now that she is alive. It will make no meaning celebrating her after death. She gave most of us life that is why decided to celebrate her."