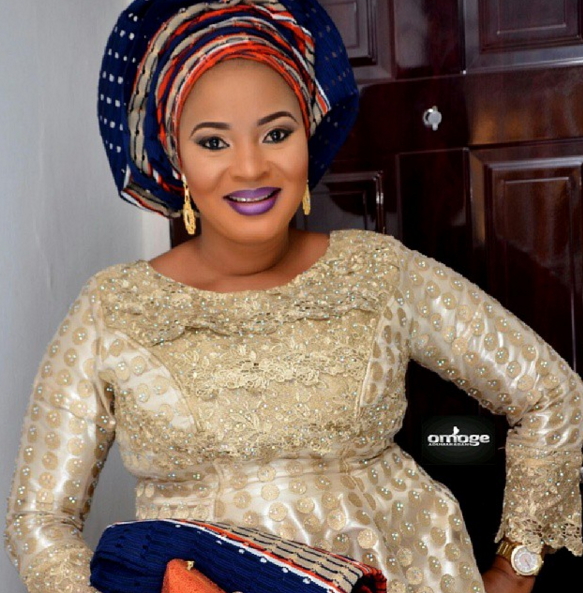 Actress Moji Olaiya, was interred on Wednesday at the Ebony Vault burial ground in Ikoyi, Lagos.
Olaiya, 42, was dressed in white Muslim casket. Prayers were offered for the repose of her souls at the Ebony funeral parlour at the cemetery.
She died on May 17, following a cardiac arrest, three months after she was delivered of a baby girl in Canada.
A News Agency of Nigeria (NAN) correspondent at the cemetery reports that Olaiya's colleagues, friends and family members wept bitterly at the funeral.
An actress, Keji Yusuf, said that Olaiya was like a daughter to her, describing the actress as a very good person.
"She was fun to be with. Her good smile, gentle manner, soft way of speaking will endear you to her. She was a nice and respectful person.''
Yusuf consoled Olaiya's family, especially the mother to look up to God for help to train the children the actress left behind.
She also advised Olaiya's mother not to wait for anyone's promises because they might not fulfill them.
An actor, Muyiwa Ademola, popularly known as `Authentic', said that Olaiya cared for everybody.
"She was a down to earth person, no matter who you are. She carried people's problem as if it was her own, she could not be compared with any other person".
Ademola, however, advised the family to take Olaiya's death as how God wanted it.
"We cannot query Him'', he said.
Actress Fathia Balogun, said that Olaiya was irreplaceable.
"She is my sister and everything anyone can be to any person.
"In fact, I do not have the strength to talk about her being late, it is still like I am dreaming.''
Ronke Ojo-Anthony, better known as "Ronke Oshodi Oke'' said that Olaiya's humility was beyond her, because she humbled herself to everyone no matter the age.
"She is like a sister to me, even when we fight, she will be the first person to call.
"She was full of life but she did not joke with her daughter's school fees, if you wanted her to buy something.  She would tell you to wait until she paid for her daughter's school fees, when she did that she would buy whatever she wanted to buy, I remember her for that.
"She was more than good,'' Ojo-Anthony added.
Moji Olaiya is the daughter of the legendary Nigerian highlife maestro, Victor Olaiya.
She converted to Islam in 2014.
Her acting career started with a feature movie "Sunmibare'', which was produced by Dimeji Ijaduade, before she took a role in Wale Adenuga Productions, Super Story series, "No Pain, No Gain''.
Olaiya starred in many Nollywood and Yoruba movies, among which are: "Sade Blade-2005'', "Nkan Adun-2008''; "Omo Iya Meta Leyi-2009''; "Agunbaniro'' and others.
She produced a film "Iya Okomi'' which premiered in 2016.
She won some awards and was nominated for the Reel Awards for Best Supporting Actress of the Year- 2003.
In 2015, the FCT Command of the Nigeria Police honoured her as a role model for youths.