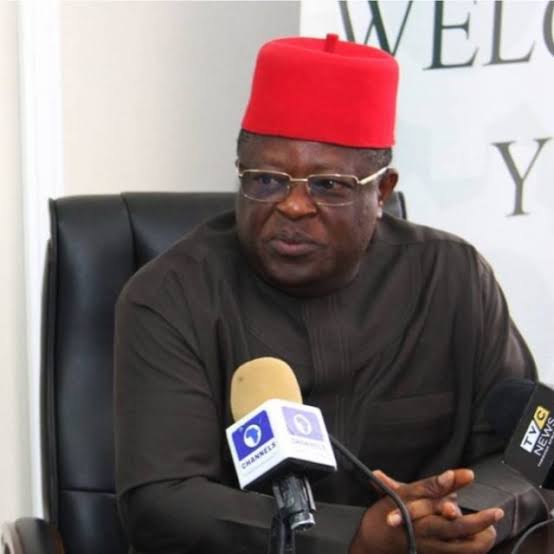 Gov. David Umahi of Ebonyi has dispelled rumours circulating across the state that his late Commissioner for Infrastructural Development for Concession, Mr. Fidelis Nweze, rose from the dead.
The news of Nweze's resurrection from the morgue of the Turkish hospital, Abuja, where he died on June 22, filtered to the state on Thursday.
The news caused wild jubilation among his relatives, friends and well-wishers and put Abakaliki and other areas in the state in frenzy.
Hundreds of people besieged his houses in Abakaliki and hometown, Onueke in Ezza South Local Government Area of the state, singing, dancing and making merry that God had raised him from the dead.
Workers in most government offices, traders and other segments of the public openly discussed the matter as many held the view that God raised him due to his good works.
Umahi, in a statement signed by his Special Assistant on Media and Publicity, Mr. Francis Nwaze, however, debunked the report, describing it as 'fake news'.
READ ALSO : Tears As Policeman Shot By Suspected Kidnappers Is Buried In Ekiti
"People should stop spreading unverified news as it is inflicting more pains on those currently mourning.
"There was no pictorial evidence or confirmation from the hospital and we ask why people should engage in hear-say at this critical time.
"We have to accept the reality before us though the deceased's death was difficult to swallow," the statement read.
Nweze died on June 22 from injuries sustained in a ghastly motor accident along the Enugu-Abakaliki highway on June 19.
Gov. Umahi later declared June 23 as public holiday and four-day prayer and fasting session across the state in honour of the the deceased. (NAN)