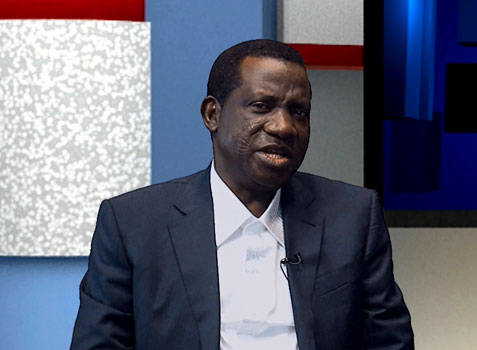 Governor Simon Lalong of Plateau State and chairman Northern Governors Forum has offered automatic scholarship to Movel Favour Wokrit, Plateau Student who obtained 9 A1s in the 2019 WAEC May/June examinations as well as scored 323/400 Points in JAMB UTME test.
Lalong stated this in a Press statement by his Director of Press Affair, Makut Macham signed and issue to Journalists in Jos on Tuesday.
Governor Lalong who received Movel Favour Wokrit, a student of Christian Royal College Sabon Barki, Jos South Local Government of Plateau State in his office at the Government House Rayfield, Jos Tuesday, said the exceptional performance of the student has again brought to the fore the enormous human talent and gift on the Plateau which must be harnessed thoroughly.
He said the state will take responsibility for the education of Movel up to any university of his choice because he has earned it through his brilliant performance that has brought pride not only to his family, his village Nyelleng in Pankshin Local Government, but the entire Plateau State.
Governor Lalong also announced that he has already secured a place for Movel in the Federal Government/China scholarship agreement which is engineering-based. However, since Movel has indicated he wants to study medicine, the state government will fund his education in whatever area he chooses.
He said the State Government will continue to identify and sponsor such exceptional students whose parents cannot afford to pay their fees to pursue their dreams in institutions and courses of their choice.
The Governor reiterated that his rescue administration will continue to invest in education by rebuilding old schools and constructing new ones as well as training and retraining teachers while improving their welfare for better performance.
His words "when I came on board, the determination was to leave behind a legacy that is enduring and that is only possible through education. Since my first tenure, we have sunk in a lot of money to rescue the education sector from the sorry condition we met it and today, through the Rescue Mandate, the legacy projects I have rolled out are dominated by schools in all local government areas of the state because our administration believes that there is no better way to secure the present and future without building the human resource that is necessary for a fast changing society that is driven by science, technology and innovation". This achievement makes you a genius and Plateau State shares that gift which is a pride for the nation.
"There will be a reward for the School, the teachers, and the parents. We will continue to monitor you and ensure that you don't derail and continue to serve as a role model to other younger ones".
Governor Lalong also told the occasion that he has passion for technical education, hence his administration's decision to revive all the technical schools in the state by equipping them and training requisite staff so as to promote job creators and entrepreneurs thereby reducing unemployment and crime in the state.
He extended warm commendations to Movel's parents for instilling good character and virtue of hard work and commitment in their son and also appreciated the proprietor of Christian Royal College Sabon Barki, Chief Garba Pwul (SAN), Management, Staff and Students for providing the right learning environment that facilitated this exceptional feat.
Movel while responding said he was delighted to meet the governor who has done a lot to build a great state. He promised not to disappoint the governor and his family and people of the state.
Father of 17 Year old Movel Favour Mr. Apollos Movel expressed deep gratitude to Governor Simon Lalong for honouring their son's achievements and offering him scholarshipsaying " this achievement is in line with the saying that when the righteous are in power, the people rejoice. Your doggedness for good governance, accountability and passion has made Favour's achievement possible. I now hand over Favour to you, he is henceforth your son".
Proprietor of the Christian Royal College Sabon Barki, Garba Pwul (SAN), represented by Victor Pwul, commended Governor Lalong for making education a priority in his Rescue Agenda which he said has given both public and private schools the enabling environment to operate and produce products like Movel, who are light bearers for the state and the nation.
He promised to continue motivating his staff and students and encouraging them to pursue excellence that will make the difference. The school was established 9 years ago.