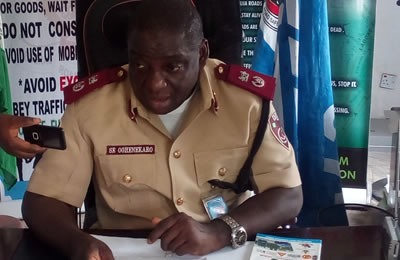 No fewer than 71 senior officers of the Federal Road Safety Corps, FRSC, have been redeployed in a nationwide exercise.
The redeployment, according to a statement issued by FRSC Secretary, Susan Ajenge, is to enhance performance and reposition the corps.
In the exercise, the former sector Commander in Rivers State, Ayodele Kumapayi, has been made the Head of Corps Safety and Transport Office at the national headquarters, Abuja.
It would be recalled the Kumapayi was recalled for cutting the hair of some female officials of the corps.
Replacing Kumapayi is Corps Commander Imoh Etuk, who was the Corps Public Education Officer at the headquarters.
The ex-Zonal Commanding Officer of Zone 7, Abuja, Kingsley Agomo, was moved to Zone 6, Port Harcourt while Jonas Agwu, who was in charge of Zone 6, Port Harcourt, was redeployed to Zone 4, Jos.
Oludare Fadogba who was Commanding Officer of Zone 4 Jos, has been redeployed to Zone 7, Abuja just as A.A. Nwaka, who recently completed a course at the National Defence College, Abuja, was deployed to the National Headquarters, Abuja.
Nwaka takes over as the Assistant Corps Marshal in charge of Admin section.
Corps Commander Bisi Kazeem, who headed the Media Relations and Strategy at the headquarters is now the Corps Public Education Officer.
Former Kaduna State Sector Commander, Francis Udoma, now heads the Transport Section at the Technical Service Department at the national headquarters and former Sector Commander, Gombe State, David Mendie, was moved to Benue State as Sector Commander.
While the former Sector Commander, Benue State is now in Cross River State, Ikechukwu Igwe was redeployed to Bayelsa State in the same capacity.
He was moved from Cross River State as Sector Commander.
James Mbatse who was in Niger State as Sector Commander takes over in Yobe State; Ibrahim Abubakar and Umar Ibrahim will take over in Gombe and Kaduna States respectively.
The two men were in Imo State and Osun State < respectively.
The postings, the corps said, took immediate effect.