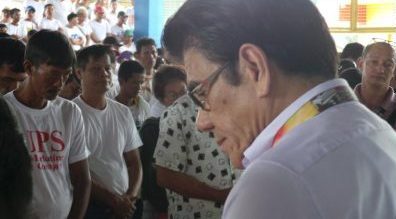 The controversial mayor of Philippines' Tanauan City has been killed by a sniper, the city's police chief said.
Mayor Antonio Halili, who gained notoriety for parading people arrested on drug offenses, was killed with a single shot to the chest from an unknown assailant, Police Superintendent Renato Mercado told CNN.
Halili was shot during a flag-raising ceremony in front of Tanauan City Hall shortly after 8 a.m.Monday (8 p.m. Sunday ET), and declared dead at the Reyes Memorial Hospital in the city less than an hour later, attending physician Alexander Carandang said.
Video purportedly of the event shows Halili standing in a line with government employees as the flag is raised and those in attendance sing the national anthem.
As the camera strays to film another group, a single shot rings out, followed by screams and a woman's voice, saying "oh my God" in English.
The victim is not seen on camera after the shot is fired.
Police currently do not have any suspects or motives for the killing, but Halili's controversial practice of parading suspects through Tanauan had raised his profile.
Those paraded had confessed to drug offences but had not been formally charged, he told CNN in an interview in 2016.
Halili started the contentious policy in 2014 with the help of his 70-strong "anti-crime group," government officials who dressed in all black and patrolled the streets, some armed with their own guns.
He came to prominence in a zero-tolerance climate for drug offenses in the country, led by President Rodrigo Duterte's infamous war on drugs, which has seen thousands of suspected drug users and dealers gunned down by police and vigilantes.
Halili identified strongly with the controversial leader — "They call me the 'Duterte of Batangas,'" he told CNN in 2016, referring to the province in which Tanauan is located – and said he was a proud supporter of Duterte and his controversial policies.
However, even before Duterte came to power Halili had made a name for himself with the controversial perp walks.
Mexico election: Lopez Obrador on course for victory as rivals concede
With only a fraction of the vote counted, three rivals to Mexico presidential candidate, Andres Manuel Lopez Obrador, have conceded defeat, leaving the veteran leftist on course for a decisive victory.
Shortly after polls closed Sunday, Jose Antonio Meade, a former finance minister and candidate for the center-right Institutional Revolutionary Party, which dominated politics in Mexico for decades, conceded in a speech to supporters.
Meade said voting intentions did not favour him nor his coalition, and predicted Lopez Obrador, known by his initials AMLO, would win "the majority of votes."
"He will have the responsibility to conduct the executive power, and for the good of Mexico I wish him well," Meade said.
Soon after Meade's speech, Ricardo Anaya Cortes, who led a coalition of parties and was considered the strongest challenger to AMLO, also threw in the towel.
Jaime Rodríguez Calderon, known as El Bronco, also conceded defeat.
US President Donald Trump congratulated AMLO in a tweet, saying he looked forward to working with him.
"There is much to be done that will benefit both the United States and Mexico," Trump said.
Polls closed at 9 p.m. ET and official results are expected.
READ ALSO: Macron's visit: Lagos announces road diversion, movement restriction
Thailand cave search: Divers close in on missing soccer team
Rescuers from China and Australia have joined the search for a youth soccer team missing in a Thai cave, as divers believe they're closing in on the spot where the group could be sheltering.
The international rescue operation – which includes more than 1,000 people from Thai emergency services, alongside a US military contingent and British cave experts – has been ramping up its efforts since the 12 boys and their 25-year-old soccer coach disappeared during an outing in the caves in northern Thailand on June 23.
Divers are now closing in on elevated dry area, called Pattaya Beach, where they believe the missing boys may have taken refuge in the Tham Luang Nang Non cave system.
The dry area is several kilometers from the entrance of the cave.
Water from the flooded cave has receded in recent days, allowing rescue teams to gain ground, according to Chiang Rai provincial governor Narongsak Osatanakorn.
Oxygen tanks have been installed at 25-meter junctures for divers to use, and a water pumping machine has also being deployed, added Osatanakorn.
Heavy rains had previously hampered the rescue operation, as the caves became extremely dark and muddy.
On Friday a team of six Chinese experts arrived at the site in Chiang Rai province, according to the Chinese Embassy in Thailand.
The experts hail from the Beijing Peaceland Foundation, an organisation with more than 100 rescue teams and experience in carrying out similar operations in mountainous Myanmar and Nepal.
On Saturday, Australia also deployed a team of six experts from its national police's Specialist Response Group, according to the country's Minister for Foreign Affairs Julie Bishop.
The group, which typically carries out land search and rescue operations, also has experience diving in flooded caves.
For now, divers continue to work at the mouth of the cave, and drilling is underway at several points in the cave complex, primarily to relieve the flooding.
French convict escapes prison again, but with hijacked helicopter
The first time Redoine Faid escaped from prison five years ago, he blasted his way out with explosives.
He was caught, locked up and given more time behind bars.
But on Sunday, he managed to escape again — by hitching a ride on a hijacked helicopter.
Faid, one of France's most notorious criminals, was serving 25 years in prison for his role in a failed 2010 robbery that resulted in the death of French police officer, Aurélie Fouquet.
He was also given 10 years for his brazen 2013 prison escape, the Paris prosecutor's office said.
Faid's latest flight from prison came after two or three heavily armed men hijacked a helicopter and forced the pilot to fly to Faid's prison in Seine-et-Marne, near Paris, the French Interior Ministry said.
After picking Faid up Sunday, the armed men forced the pilot to fly them to the Val d'Oise region, northwest of Paris, before releasing the pilot unharmed and fleeing in an unidentified vehicle, the Interior Ministry said.
Redoine Faid has escaped from prison twice and is still at large.
It was not immediately clear how Faid was able to get access to the hijacked helicopter.
But news of his second escape "devastated" the parents of the slain officer, the family's attorney told CNN affiliate BFM-TV.
Attorney Laurent-Frank Lienard said Fouquet's parents are certain Faid "was involved at the highest level in the robbery attempt that led to Aurélie Fouquet's death."
Faid was convicted of masterminding the failed 2010 robbery.
Two other men were sentenced for her murder.
But Faid "always denied his involvement in the case," his former lawyer Christian Saint-Palais said.
"He considered himself the victim of an injustice. He felt he was wrongly incarcerated," Saint-Palais told the newspaper Le Parisien.
He added, "And for him, that could justify recovering his freedom if the opportunity arose."
Police have now mobilised and are guarding borders to try to catch the fugitive, the interior ministry said.