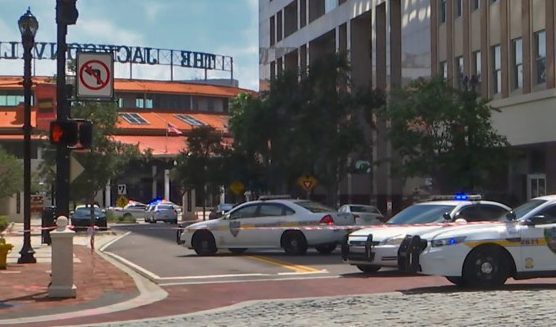 Two people have been shot dead by a gunman at an entertainment complex in Jacksonville, Florida, police say.
The killer, named David Katz, 24, from Baltimore, also shot himself dead at the scene.
No other suspects are being sought.
Eleven other people were injured in the incident.
The shooting happened during a video game tournament being held at Jacksonville Landing, a large shopping, entertainment and dining complex.
Katz used only one hand gun, the police said, according to their investigations so far.
Police refused to confirm local media reports that he began shooting after becoming angry following a loss at the gaming tournament.
Florida has seen several mass shootings in recent years, including at the Pulse nightclub shooting in Orlando in 2016, when 49 people died, and the Marjory Stoneman Douglas School in Parkland in February this year, when 17 people were killed.
Gamers were playing the American football game Madden NFL 19 at the GLHF Game Bar in Jacksonville Landing when shooting erupted on Sunday afternoon.
Many shots can be heard in a video that appears to show the event being streamed online on the Twitch platform.
Drini Gjoka, a 19-year-old player taking part, described the shooting in a series of posts on Twitter, calling it "the worst day of [his] life."
He tweeted that a bullet had hit his thumb.
People fled for shelter when the shooting began and police appealed to them to stay calm as Swat teams checked the area for possible accomplices before it was confirmed that only one gunman had been involved.
Taylor Poindexter from Chicago said she saw the gunman taking aim at people in the room.
"We did see him, two hands on the gun, walking back, just popping rounds," she said. "I was scared for my life and my boyfriend's."
"There were nine victims transported by JFRD (Jackonville Fire and Rescue Department) to area hospitals.
Some of those have gunshot wounds.
There were two additional gunshot victims that self-transported themselves to local hospitals," said Sheriff Mike Williams.
The victims are not being named until their next-of-kin are informed.
"Tonight, Jacksonville is mourning. We've faced an occurrence that is all too common that will require us to continue to do the hard work of public safety," said Jacksonville Mayor Lenny Curry.
EA Sports, the company that owns Madden and approved the competition, told the BBC it was "devastated by this horrific event… a senseless act of violence that we strongly condemn."
It sent its heartfelt sympathies to the families of the victims.
North Korea grants humanitarian release to Japanese tourist
North Korea has said it is freeing a detained Japanese tourist on humanitarian grounds.
There is very little information available on Tomoyuki Sugimoto, but he was known to have been arrested earlier this month.
North Korea has not said why he was arrested, only that he was breaking the law.
Japanese media said he could have been filming a military facility.
Tourists visiting North Korea are strictly monitored at all times.
The secretive country has often jailed tourists before – sometimes for arbitrary reasons – and used them as bargaining tools in its negotiations with their home states.
Among the most noted recent detainees was Otto Warmbier, a US student who was jailed for stealing a hotel sign.
He was also released on humanitarian grounds, but arrived home critically ill and died a few days later.
Mr Sugimoto, thought to be in his late 30s, is believed to have been detained while with a tour group in Nampo, on the west coast.
Nampo – or Nanpo – is known to be home to a naval base and weapons factory.
The official state news agency KCNA said he had been "kept under control by a relevant institution to be inquired into his crime against the law."
But officials had decided to "leniently condone him" and expel him "on the principle of humanitarianism."
It did not specify when he would be freed, but prisoner releases usually happen soon after such a statement.
Japan and North Korea do not have any diplomatic relationship.
North Korea has several times used flight paths crossing Japanese territory to test its missiles, earning condemnation from Tokyo as well as joining most of the world in demanding that Pyongyang abandon its missile and nuclear programme.
 Japan has repeatedly pushed for information on Japanese citizens abducted by the North.
The citizens were seized in the 1970s and 80s and forcibly taken to North Korea to train personnel in Japanese language and culture.
Japan has insisted there can be no progress on sanctions relief or aid to North Korea until the issue has been resolved.
READ ALSO: Pope keeps silent on abuse claim letter at end of Irish visit
Colombia anti-corruption referendum fails to meet quorum
Colombia's anti-corruption referendum has failed to reach the minimum number of votes required for it to be valid.
Less that 12 million people went to the polls and the referendum needed a little more than 12 million to take part for it to be binding.
However, an overwhelming majority of those who did vote approved the anti-corruption measures proposed.
Each of the seven measures had more than 99% support.
But for the referendum to be valid, a third of the country's 36.4 million eligible voters had to take part and the turnout fell just short of that.
The proposed measures include a cut in wages of members of Congress, bans on alternative sentences like house arrest for corruption, forcing elected officials to publish their tax returns and a three-term limit on local and national lawmakers.
Corruption is rife in the country despite efforts to tackle the problem through laws, more thorough investigations and even by raising public awareness through campaigns.
The outgoing Comptroller General, Edgardo Maya, said recently that corruption was costing the country more than $15bn a year.
"They are stealing everything," he said.
However, politicians will probably have to take note that an overwhelming majority of those who did vote approved the measures.
Supporters said it showed Colombians were fed up with the scandals and wanted to hold politicians to account.
"Citizens want a real and genuine change in political practices," said Angelica Lozano, a Green party senator who campaigned for "Yes."
Other members of Congress who supported the "Yes" campaign said they would present a number of new laws based on the seven measures in Congress this week.
Myanmar Reuters journalists' verdict delayed by judge's health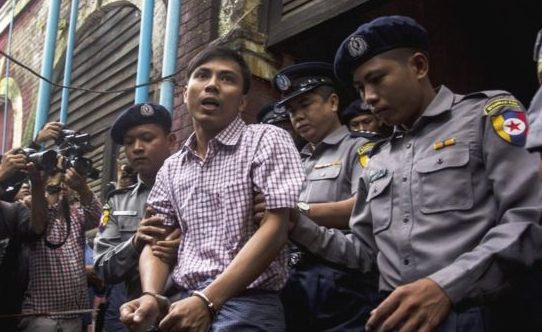 A court in Myanmar has delayed its ruling on two Reuters journalists accused of violating a state secrets act while investigating violence against Rohingyas.
An official said the verdict would now be given on September 3, owing to the judge's poor health.
Wa Lone and Kyaw Soe Oo were arrested last year while carrying official documents given to them by police.
The men, who deny all charges, face up to 14 years in jail if found guilty.
Both men have been in jail since December.
"Whatever they decide for us, we will not be afraid," Wa Lone said while leaving the courthouse, AFP reported.
He has previously said their work followed all media ethics and that they "tried to tell the truth based on the real situation."
The verdict comes a year after the long-running crisis in Rakhine state came to a head when a previously unknown Rohingya militant group staged deadly attacks on police posts.
The military responded with a large-scale deadly operation against the Rohingya, which the UN has said was intended to drive them out of the country for good.
Media access to Rakhine is strictly controlled by the government so it is difficult to get reliable news from the region.
Wa Lone, 32, and Kyaw Soe Oo, 28, had been collecting evidence about the execution of 10 men in the village of Inn Din in northern Rakhine on September 2.
According to Reuters, a group of Rohingya men seeking safety on a beach were singled out and killed – at least two were hacked to death by Buddhist villagers with the rest shot by the army.
On December 12, the journalists were invited to dinner with two police officers who handed them documents about the massacre.
They were arrested when they left the restaurant.
They were charged with "possessing important and secret government documents related to Rakhine state and security forces".
Police said the information had been "illegally acquired with the intention to share it with foreign media."
Their lawyers say they were set up by police because officials wanted them to be punished for exposing the massacre.
"We are not wrong and the things alleged by the prosecution are baseless," Wa Lone said in court last week.
One police officer has testified for the defence, saying he was ordered to plant the documents on them.