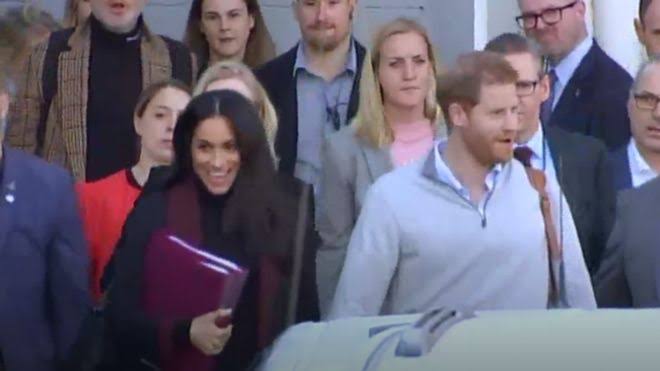 The Duke and Duchess of Sussex have arrived in Sydney to begin an official visit to Australia, Fiji, Tonga and New Zealand.
It is the couple's first official royal tour since getting married in May.
The 16-day trip coincides with the fourth Invictus Games, beginning in Sydney on Saturday, and includes dozens of official events.
Prince Harry and Meghan were met by a large media and security presence at the airport on Monday.
They were driven to Admiralty House, the Sydney Harbour residence of Governor-General Peter Cosgrove – who is the Queen's representative in Australia.
The couple follow in the footsteps of Prince Harry's parents – Prince Charles and Diana, Princess of Wales – whose first royal tour was to Australia and New Zealand.
However, the couple did make an official overseas visit to Ireland in July.
They will rest before beginning official duties on Tuesday.
New South Wales (NSW) Premier Gladys Berejiklian welcomed the couple to Australia, describing the visit as exciting.
"It's really a visit with the people," she told local network Nine on Monday.
In the coming days, Prince Harry and Meghan will visit attractions including the Sydney Opera House, Taronga Zoo and Bondi Beach.
They will also take day trips to Melbourne, drought-stricken NSW town Dubbo, and Queensland's Fraser Island.
They will then spend a few days in Fiji and Tonga, before concluding the trip with four days in New Zealand.
For the duke, the tour marks a return visit to all four countries. The duchess has previously visited New Zealand as a tourist.
Prince Harry's brother and sister-in-law, the Duke and Duchess of Cambridge, spent 18 days in Australia and New Zealand on an official tour in April 2014.
The prince will launch the fourth Invictus Games in Sydney on Friday, and attend the opening and closing ceremonies.
He founded the Paralympic-style competition for injured servicemen and servicewomen and veterans in 2014.
Jamie Dimon: JP Morgan boss pulls out of Saudi conference
JP Morgan CEO Jamie Dimon has cancelled plans to attend an investment conference in Riyadh amid growing tensions between the US and Saudi Arabia.
He is the latest high-profile figure to pull out of a conference dubbed "Davos in the Desert" after the disappearance of Saudi journalist Jamal Khashoggi.
Oil futures rose on Monday on concerns about supply, while stocks in Saudi Arabia fell sharply on Sunday.
The Saudis deny killing Mr. Khashoggi.
The government critic vanished on 2 October after visiting the Saudi consulate in Istanbul, Turkey. Authorities there believe he was killed in the building by Saudi agents, which Riyadh has dismissed as "lies".
The UK, Germany and France have demanded a credible investigation into the disappearance.
"We can confirm… that Jamie will not be attending the Saudi event. "We won't be commenting further," the BBC quoted a JP Morgan spokesperson as saying.
Other executives such as Ford Motor Chairman Bill Ford and Uber Chief Executive Dara Khosrowshahi also won't attend the conference, according to the Wall Street Journal.
Mr Khashoggi was once an adviser to the Saudi royal family, but fell sharply out of favour with the Saudi government and went into self-imposed exile.
The United States President Donald Trump has threatened that the US will inflict severe punishment" on Saudi if it is found responsible for his death.
But on Sunday Saudi Arabia said it rejected political and economic "threats" over the missing journalist and would respond to any punitive action "with a bigger one".
Saudi Arabia is one of the world's top oil exporters.
The Future Investment Initiative will be held in Riyadh between 23 and 25 October.
Others distancing themselves include Sir Richard Branson, who has halted talks over a $1bn Saudi investment in Virgin space firms.