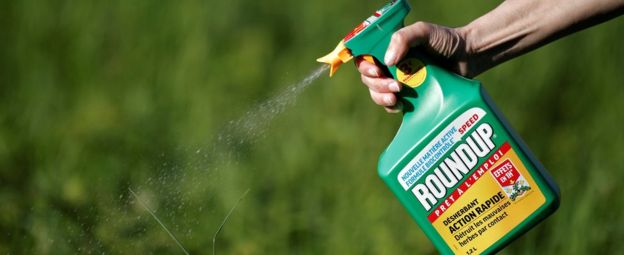 Chemical giant Monsanto has been ordered to pay $289m (£226m) damages to a man who claimed herbicides containing glyphosate had caused his cancer.
In a landmark case, a Californian jury found that Monsanto knew its Roundup and RangerPro weedkillers were dangerous and failed to warn consumers.
It's the first lawsuit to go to trial alleging a glyphosate link to cancer.
Monsanto denies that glyphosate causes cancer and says it intends to appeal against the ruling.
"The jury got it wrong," Vice-President Scott Partridge said outside the courthouse in San Francisco.
The claimant in the case, groundskeeper Dewayne Johnson, is among more than 5,000 similar plaintiffs across the US.
Correspondents say the California ruling is likely to lead to hundreds of other claims against Monsanto, which was recently bought by the German conglomerate Bayer AG.
Mr. Johnson was diagnosed with non-Hodgkin's lymphoma in 2014.
His lawyers said he regularly used a form of RangerPro while working at a school in Benicia, California.
Jurors found on Friday that the company had acted with "malice" and that its weedkillers contributed "substantially" to Mr. Johnson's terminal illness.
Following an eight-week trial, the jury ordered the agricultural multi-national to pay $250m in punitive damages together with other costs that brought the total figure to almost $290m.
Mr. Johnson's lawyer, Brent Wisner, said the jury's verdict showed that the evidence against the product was "overwhelming."
"When you are right, it is really easy to win," he said, adding that the ruling was just "the tip of the spear" of future legal cases.
In a statement after the ruling, Monsanto said it was "sympathetic to Mr. Johnson and his family" but it would "continue to vigorously defend this product, which has a 40-year history of safe use."
"Today's decision does not change the fact that more than 800 scientific studies and reviews – and conclusions by the US Environmental Protection Agency, the US National Institutes of Health and regulatory authorities around the world – support the fact that glyphosate does not cause cancer, and did not cause Mr. Johnson's cancer," it added.
………………………………………………………………………..
Romanian police clash with anti-government protesters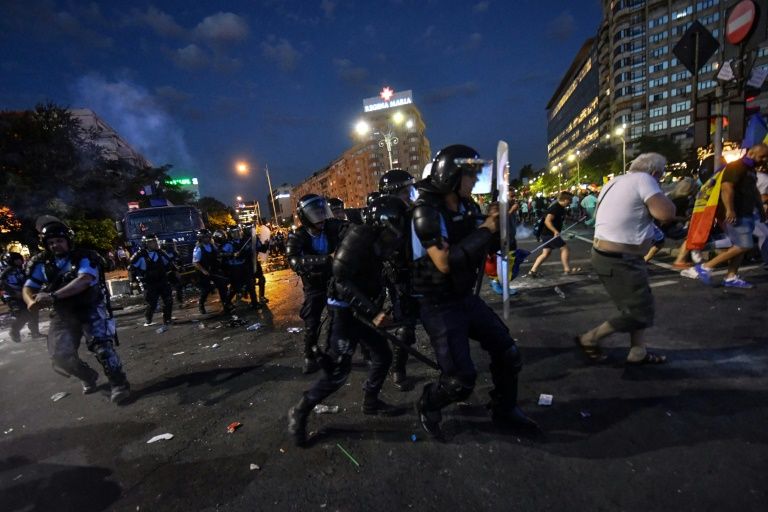 Police have clashed with tens of thousands of anti-government protesters across Romania.
Between 30,000 and 50,000 people, including many returning expats, turned out nationwide, media reports say.
Some protesters in the capital Bucharest threw bottles and paving slabs, while police used tear gas, pepper spray and even a water cannon.
Around 100 protesters needed medical attention and 10 police were injured, emergency services said.
A group of protesters tried to break into the government building in Bucharest, but were held back by the police security cordon.
Others waved EU and Romanian flags, banged drums and chanted slogans.
The protesters demand the resignation of the government, objecting to the perceived efforts to weaken the judiciary by the governing Social Democrats (PSD), as well as low wages and entrenched corruption in the country.
Protests have been building against the PSD for months.
In July, President Klaus Iohannis approved the dismissal of anti-corruption prosecutor Laura Codruta Kovesi, who had been leading investigations into local and national politicians for graft.
President Iohannis had been under extensive pressure from the PSD government to agree to her removal.
Around 150,000 gathered in Bucharest last year after the government passed a decree that could free those jailed on corruption charges.
Many expat Romanians also returned to take part.
Ileana Anghel travelled all the way from her home in Spain with her husband to take part.
"We want to see modern roads and schools and above all to not have to pay bribes to the left and right," she told AFP.
Sixty-year-old Vlad flew back to Romania from New York, his home of 30 years.
"Corruption and embezzlement, which profit the ruling class, are what bothers me," Vlad told the same news agency.
According to the World Bank, up to a quarter of the Romanian population – between three and five million people – live and work abroad, sending back around $5bn (£3.9bn) to one of the EU's least developed countries.
………………………………………………………………………
German police save man from baby squirrel terror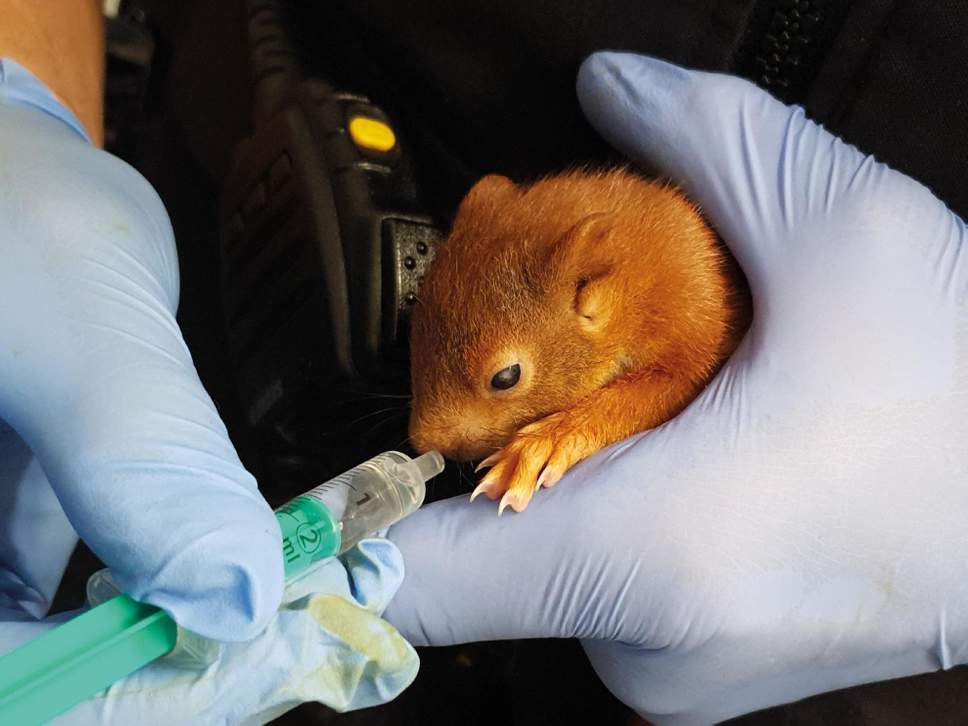 German police have come to the rescue of a man being chased by a baby squirrel.
Officers in the south-western city of Karlsruhe responded to the call for help and arrived to see the creature still terrorising the caller.
The squirrel was taken into custody after it abruptly fell asleep.
A police report of the incident say the persistent rodent has become their new mascot, and has been dubbed Karl-Friedrich.
According to the report, baby Karl-Friedrich is being well looked after in an animal rescue centre.
Karlsruhe police posted a tweet about the case on Thursday, with more photos of the offender.
Squirrels are known to chase after human beings when in need of food or help.
Police spokeswoman Christina Krenz told the Guardian squirrels that have lost their mothers can focus their attention on one person as a replacement.
"It can be pretty scary," she said, determining that the caller "was certainly feeling a bit threatened."
Squirrel attacks are not always so benign.
In July last year, New York authorities warned Prospect Park visitors to avoid an "unusually aggressive" squirrel who attacked five people in the space of one week.
A three-year-old boy in Cornwall, UK was left covered in blood the previous year after being bitten by a pack of six squirrels.
………………………………………………………………
Fredericton shooting: Four dead including two police in Canada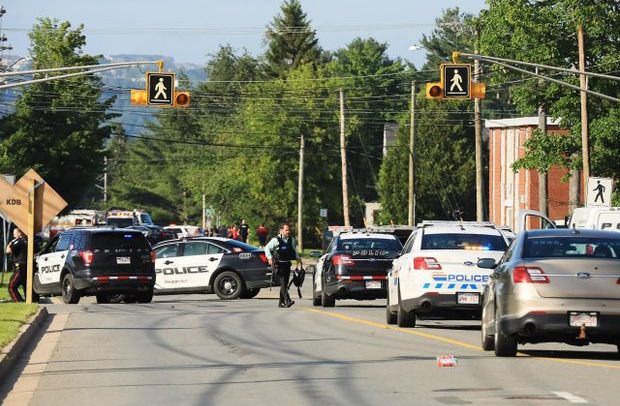 Canadian police say a suspect is in custody after at least four people – two of them police officers – were killed in a shooting in the eastern city of Fredericton, New Brunswick.
The slain officers were identified as Sarah Burns and Robb Costello, but the civilians – a man and a woman – have not been named.
The officers were responding to reports of shots fired when they were killed, officials told media.
Police have not mentioned a motive.
"Protecting us today, they gave their lives," Fredericton mayor, Mike O'Brien, told the media during a press conference. "We will get through this together but now my thoughts turn to the families of the victims."
Burns, 43, leaves behind a husband and three children, while Costello, 45, is survived by his partner and four children.
Officials told reporters the officers had been responding to reports of shots fired when they found the two civilians on the ground.
The suspect is in custody in hospital and being treated for "severe" injuries sustained during the incident, but he has not been named.
The investigation into the shooting has been taken over by the RCMP, Canada's federal police force.
A local TV reporter said he had heard four gunshots just after 07:00 (11:00 GMT).
Nick Moore, a journalist from CTV Atlantic, posted video footage of the scene on Twitter, showing emergency vehicles outside a house.
"Awful news coming out of Fredericton," Prime Minister Justin Trudeau tweeted.
"My heart goes out to everyone affected by this morning's shooting. We're following the situation closely."
Fredericton is the capital of New Brunswick province and home to around 56,000 people.
It is rare in Canada for police officers to be killed in the line of duty.
Between 1961 and 2009, a total of 133 police were killed, and just five in the province of New Brunswick.
In 2014 24-year-old Justin Bourque shot five RCMP officers in the province, killing three.
The shooting spree led to a 28-hour manhunt, and shocked the nation.
In the aftermath, the RCMP was charged with labour-code violations alleging police officers had not been adequately armed and protected for the situation.
Gun laws are more stringent in Canada than in the US, but the number of shootings has nonetheless risen in recent years.
…………………………………………………………………..
Zimbabwe election: Inauguration delayed after result challenged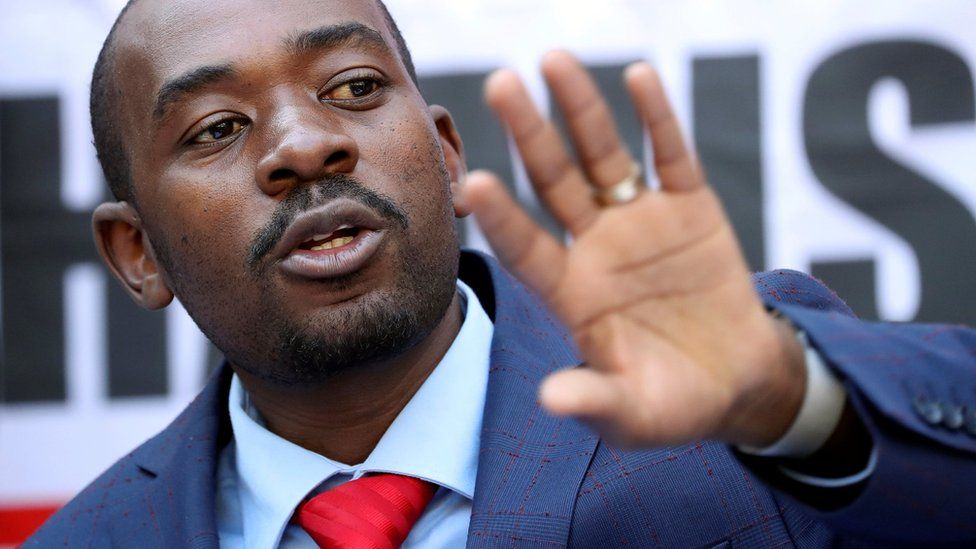 Sunday's inauguration of Zimbabwe President Emmerson Mnangagwa has been halted after a legal challenge by the opposition against the election result.
MDC leader, Nelson Chamisa, says he has evidence to show that he was cheated out of the 30 July presidential vote.
His party says the poll was marred by "mammoth theft and fraud," but the electoral commission insists that there was "no skullduggery."
Mr. Mnangagwa won 50.8% of the vote compared with Mr. Chamisa's 44.3%.
"The inauguration is no longer going ahead as planned," Justice Minister Ziyambi Ziyambi said, after the opposition filed the challenge on Friday.
Zimbabwe's constitution allows a presidential candidate to legally challenge electoral results within seven days of a winner being declared.
The Constitutional Court now has 14 days to rule on the legal challenge by the Movement for Democratic Change (MDC).
The party must prove that any irregularities were grave enough to change the outcome of the vote.
If it does this successfully, the court could order a recount or nullify the result altogether.
Mr. Chamisa wants the court to declare him the winner or call a fresh election, his lawyer told Reuters news agency.
"We have a good case and cause!" he tweeted shortly after filing the challenge.
READ ALSO: NiMet predicts Thunderstorms, rains for Saturday
At least six people were killed two days after the vote in clashes between security forces and MDC Alliance supporters who alleged that Mr. Chamisa had been robbed of victory.
There was great optimism that the elections would bring real change after the end of Robert Mugabe's 37-year rule in November.
But the MDC say the security forces have launched a brutal crackdown on the opposition following the disputed poll.
Mr. Mnangagwa has appealed for peace and promised an independent investigation into the post-election violence.
By narrowly winning more than 50% of the vote Mr. Mnangagwa, a member of the ruling Zanu-PF party, avoided a run-off election against Mr. Chamisa.