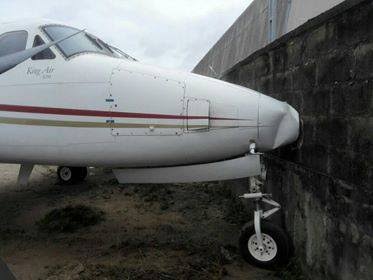 Five people have died after a tourist plane and a microlight aircraft collided mid-air in western France on Saturday afternoon.
The small microlight aircraft was carrying two people and collided with a DA40 tourist plane, which was carrying three people onboard.
The collision occurred at around 4:30pm local time (15:30 BST) in Loches, Indre-et-Loire department, local government official Nadia Seghier said.
The secretary general added that the microlight, or ULM plane, 'landed on the fence around a house' but nobody else on the ground was injured.
A witness said that the aircraft burst into flames after landing on the house's electricity meter, the BBC reported.
The tourism aircraft, reportedly a four-seat single engine plane, fell into an uninhabited sector.
All five passengers onboard the two planes involved have died.
Seghier said: '(The microlight) landed on the fence around a house without harming anyone else, (the DA40) several hundred metres away in an uninhabited area.
'All five people involved died.'
She added: 'Air emergency staff from Lyon were brought in at first to track down the plane, which was quickly found.'
Mayor Marc Angenault said the collision occurred in the skies above Loches, about 50km from Tours, southeast of Paris, according to the France Bleu radio station.
He added: 'There's never any air traffic around Loches, it's an unlikely and unbelievable accident.'
Genevieve Allouard-Liebert, who witnessed the incident and lives in the area, reportedly said she heard a 'big crash' after the collision.
She added that both her and her husband saw a man fall from the larger plane as it skimmed building rooftops, according to the BBC.
The tourist plane had taken off from Poitiers, situated around 100km from Loches, according to the Mirror.
READ ALSO: Ekiti Youths Urge FG To Ban SARS Harassment In Community
But the flightpath of the microlight remains unknown at this time.
Around 50 firefighters were called out while 30 gendarmes, paramilitary police officers, set up road detours around the crash sites.
According to a witness, residents have been told to stay in their homes and the crash sites have been blockaded, the BBC reported.
No details about the identities of the victims or the causes of the collision have been released so far.
The reason for the collision was not immediately known, and an investigation to determine the cause was opened.
Daily Mail