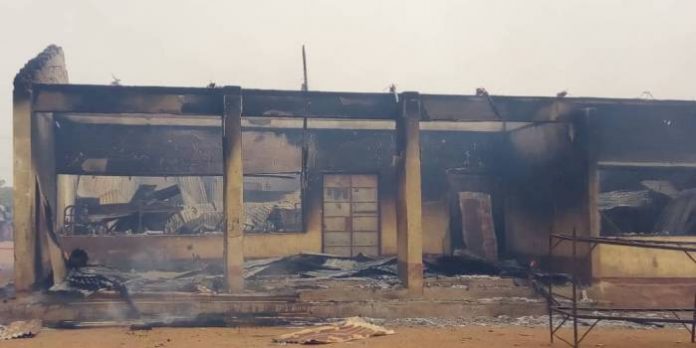 Barely two days after fire razed shops at modern market, Gboko, another fire tragedy has hit Gboko, this time, razing the male hostel of the Government Secondary School, Gboko, Benue State.
According to an eyewitness, the incident occurred in the early hours of Wednesday.
Our correspondent gathered that, the fire which started at about 8:30 am affected the Green and Orange houses of the Male hostel and destroyed JAMB/WAEC/NECO candidates documents, Cash, foodstuffs and other belongings of over 200 students.
Also part of the of the red house of the Male hostel was affected.
READ ALSO: Student killed in school hostel fire
However, no life was lost as the occupants of the hostel numbering over 200 were in their classrooms at the time of the fire incident.
When some journalists visited the school, the school Principal, Mr. Francis Tarkumbur was seen practically assisting firefighters to extinguish the flames.
He stated that the cause of the fire outbreak is yet to be officially established, however the students said it may not be unconnected with the electricity power surge and fluctuations that was experienced in the school premises at the time.
Some of the students said that upon seeing the flames in their hostel, they had attempted to go and save their belongings especially the JAMB documents but were all stopped by the school officials as the flame was high.