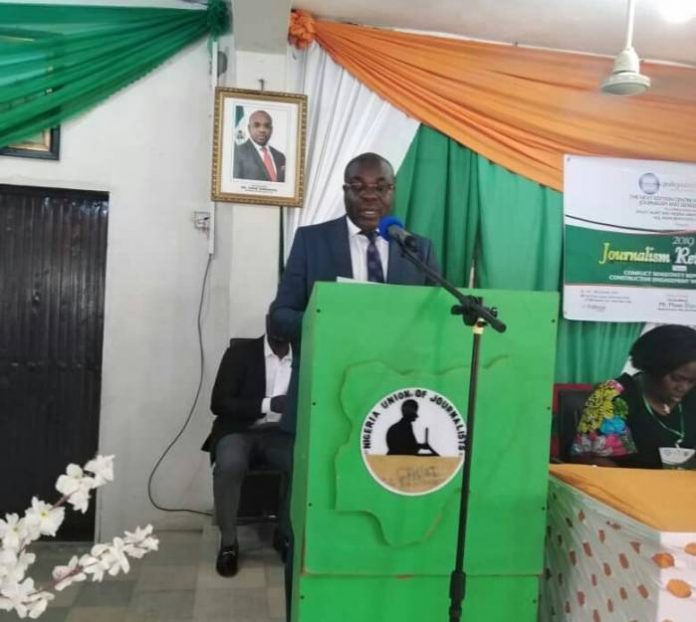 Deputy Governor of Akwa Ibom State, Mr. Moses Ekpo, has said the state government was not interested in sychophancy and boot-licking even as it seeks a better deal in its relationship with the media.
Declaring open The Next Edition 3rd Annual Training Programme in Uyo, Akwa Ibom, on Thursday, Ekpo noted that the state government was insisting on a robust engagement from the media.
Represented by Mr. Nkopuruk Ekaiko, Permanent Secretary, Dep. Governor's office, Ekpo reminded the practitioners that as members of the Fourth Estate of the Realm they were "under a constitutional obligation to both receive and administer peer review within the democratic framework of Checks and balances among the arms of government."
He however lamented that the reverse was the case in the state adding that "political alignment and patronage have become the key determinants of media content and for me, the need to address the damage which this has brought on the journalism profession in Akwa Ibom justifies this workshop."
Ekpo also emphasised that the days when bad and fake news were good news were over, insisting that " developmental and advocacy reportage grounded in objectivity had since returned to the real media."
READ ALSO: The Next Edition 3rd Annual Training Programme Kicks Off Today
He reiterated the position of Gov. Emmanuel Udom that "if Akwa Ibom journalism professionals were able to put their prejudices behind, and work single-mindedly towards advancing the cause of Akwa Ibom; making demands on our socio-economic and political rights within the polity, not as divisive partisans but as a united front, the results would be phenomenal."
The Deputy Governor concluded his address by saying that "once the media in Akwa Ibom, and indeed elsewhere in the country, gets its vision right, things would be right all the way."
He commended the Organisers of the training for putting together a highly educative and very necessary programme.
In his own remarks, the chairman of the Akwa Ibom State Council of the Nigeria Union of Journalists, NUJ, Amos Etuk, noted that the theme of the training, Conflict Sensitivity Reportage and Constructive Engagement with State Actors, aptly captured a desire to "build rather than add fire in the current widespread violence and internecine feuds, including the crisis of confidence between the people and government ravaging our country."
Noting that there was an increasing incidence of intolerance by some state actors against free press and freedom of information, Etuk posited that the training was important to ensure stories are couched in such a way as to promote tolerance and cooperation between journalists and people in government."
He expressed the view that the training will teach participants ways of communicating and reporting conflicts responsibly and sensitively to douse tension rather than exacerbate them.
The two day training is organised by The Next Edition Centre for Investigative Journalism and Gender Advocacy (NECIJGA) in collaboration with Policy Alert and Akwa Ibom State Council of the Nigeria Union of Journalists.