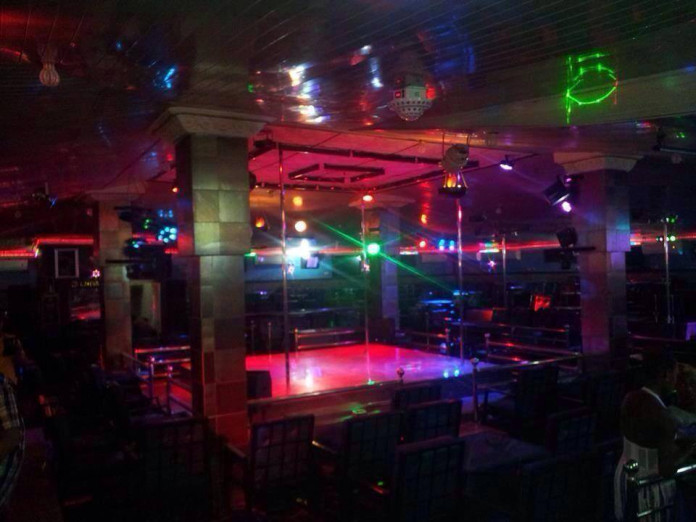 Strip clubs are fast dominating the night life in Lagos. For most night crawlers that have money to spend, regular clubs have now become somewhat 'boring' as strips clubs offer more 'excitement'. In strip clubs, there is music like regular clubs. The major difference is that girls strip naked while dancing on stage by a pole.
While there are a few strip clubs on the Island, like Silver Fox Adult entertainment at Victoria Island, Ikeja is the heart of strip clubs in Lagos and Nigeria at large. On Allen Avenue alone, there are no fewer than six of them known to the public. At Opebi Road, behind Olajuwon Hotel there is Ocean Blue, which is the oldest strip club in Lagos. There is Liquid lounge at Hilton close, Drizzo, which is also on Allen and Unique Gentlemen's club also on Allen.
At Ogba there is one called Millennium koko, while Ikeja GRA is home to the biggest of them all, called The Cave, Aficionados Lair.
The Next Edition first took a trip to Millennium Koko on Abdullahi Street off Oke-Ira at Ogba. It looked like where all the hoodlums in Lagos gathered for a party. It was 8pm and the girls numbering about 20 were getting prepared for the night's show. Due to its location, it attracts every Tom Dick and Harry. It was a gathering of rough looking men with marijuana on display like ordinary cigarettes.
Next stop was Liquid Lounge at Hilton close, opposite Hilton Hotel on Allen Avenue. It was just a regular club initially, which was later converted to a stripper's club in order to attract more customers. At Liquid Lounge, entrance depends on how you dress. If they observe that you look like a rich man who is ready to buy expensive drinks and make use of the VIP rooms in the club, they will let you in for free. When it comes to alcoholic drinks, they don't sell beer. They only have spirits and Champagne. For instance, a bottle of Andre champagne goes for N 8, 000. As soon as this reporter walked into the club, he was led in by ushers without paying the gate fee. After asking the necessary questions, he left promising to be back later in the night.
This reporter later visited Unique Gentlemen's club, which is one of the oldest strip clubs in Nigeria. This club is a stone throw away from Liquid Lounge. What makes unique stand out according to the customers and managers alike is the ability to separate the wheat from the chaff. They only allow decent looking people in. The tight security also encourages guest. The standard there has always been high. Gate fee from Tuesday to Thursday is N1, 000 for men and free for ladies while Friday and Saturday night is N2, 000 for gate fee. However, those who are regular customers no longer pay gate fees.
A customer, who goes by the name Mike, told The Next Edition that "This place keeps me relaxed after a stressful day at work. I come here every Friday night to unwind. If you want to know what makes this place special, stay here for a while and you will see for yourself."
The show starts by 7p.m but heats up around 10p.m when more guests have arrived. One by one, each dancer mounts the pole on stage and dance for several minutes. The first dancer that night looked like a teenager due to her petite frame. She danced on stage like her life depended on it. She wore just a pant and bra. After a few minutes, she removed her bra. One of the guests was so excited by her dance moves that he went close to her and dipped N500 in her pant. A few minutes later, she removed her pants and she was completely naked on stage. She swung up and down the pole in excitement not minding that she was baring it all.
The men in the club looked like people from corporate organizations. Some were still in their suit and tie. Some men even strolled in with their girlfriends to watch the show.
There is no moment the stage is empty. As one girl leaves, another climbs the stage. The guests seated are treated to lap dances from the strippers walking around. Each dance goes for N1, 000. Anyone interested in having sex with any of the girls would have to pay N7, 000 to the management. N4, 000 for the club and N, 3000 for the girl.
As this reporter was about leaving the club by 2a.m for the biggest strip club in Nigeria at GRA, a waiter stopped him and asked him to wait a bit for the main show.
Lo and behold around 2:30am, a hefty man with a black hood on his face climbed the stage with one of the strippers. Next thing, they lay down and began having sex on the stage to entertain the guests.
Amazingly, most of the guests didn't see it like anything special because they are regular guests there. A few were shocked though. The expressions on their faces showed that they weren't expecting such. Those who wanted to leave stayed back to get a view of it. It was gathered that some of the strippers are foreigners. One of the strippers who simply gave her name asTerila said, "I am from Kenya" when asked by the Next Edition.
Speaking with some residents the next day, most of them said they were not troubled that they lived close to such a club. Chuka Ogbonna whose family house was right next to the club before they relocated to Lekki told The Next Edition that, "I never visited the club for once even though I was staying next door for many years. Those who go there are mostly from far away. People from the estate hardly visit."
On influence it may have on kids, he said. "It would be difficult for any kid to know such is happening there unless they are told by adults."
That is actually the truth because outside of the clubs, no one can hear the sound of music as the clubs are sound proofed.
Another resident, Justina Ogbeide, said she never knew anything like that was going on despite living there for many years. "I thought it was just a normal club. It was one day I decided to give it a try that I knew. I was really surprised that day."
It was also in the same euphoria that this reporter moved to another area of Ikeja to continue in the business of feeding the eyes. The next point of call was the biggest strip club, The Cave, Aficionados Lair, meaning 'the rich and comfortable people's coven,' which is also in Ikeja, Lagos, and owned by Shina Eddo who formerly co-owned Club Unique, with Tony. Unique Gent's club, was formerly called Titty bar. However, when Shina Eddo left to establish his own club, the name changed to Unique Gent's club.
The Cave, which is located on Joel Ogunnaike Street,Ikeja, has similar class to Unique as it is being run by a former co-owner. Unlike others, it opens every day. Fridays and Saturdays are the peak days when guests pay N5,000 as gate fee. Tuesday to Thursday is N3, 000 while Sundays to Mondays are free. Most of the girls here are foreigners. It also boasts of a list of A-list celebrities and even government officials.
Without sounding immodest, the new craze is catching up and has become popular at almost every nook and cranny of the mega city, Lagos.