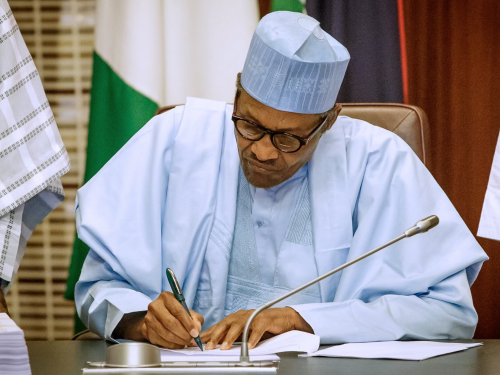 The Federal Government has created a new security formation nationwide to help in tackling worsening insecurity.
Known as Corps of Commissionaires, the new security outfit will draw largely from retired military personnel and their dependents.
An order to establish the new outfit shows it is meant to "Provide employment and other opportunities to retired personnel, their dependents, and other Nigerians to serve as security operatives in government ministries, departments and agencies (MDAs)."
Already military units across the country have been directed to inform retirees in their area of operations to fill registration forms for enlisted into the corps.
This newspaper learnt registration forms have been circulated to state offices of the Nigerian Legion.
However, the directive did not indicate the protocols put in place to ensure transparency and equity in the recruitment and deployment processes.
It did not also specify which retired personnel, their dependents and other Nigerians to benefit from the recruitment exercise.
Besides, it is not known how the Federal Government would fund the new security outfit since it has not been captured in the 2019 Budget that was signed by President Mohammadu Buhari.
The action also has no legal backing because a bill to establish the Corps of Commissionaires is yet to be forwarded to the National Assembly for consideration.
But a senior military officer told our correspondent in confidence that the signal to commence the process of recruiting personnel into the Corps of Commissionaires was received last week.
"It is part of measures to stem the rising insecurity in the country by deploying operatives to guard government properties and establishment across the country," the source said.
However, the Acting Director of Army Public Relations, Sagir Musa, said he is not aware of the formation of the new security outfit.
"I am not aware of the establishment of any new security outfit in the country and, therefore, cannot speak on it," Mr. Sagir said.