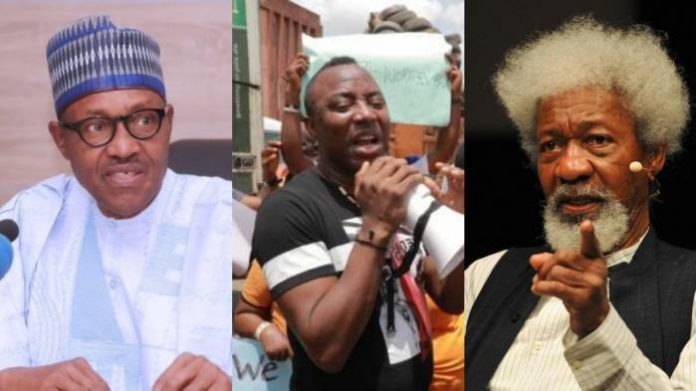 Nobel laureate, Wole Soyinka, has berated the Federal Government, the DSS and the Police for arresting one of the conveners of the 'Revolution' protest scheduled for today, Monday, August 5, Omoyele Sowore.
Operatives of the Department of State Services, DSS, had picked up Omoyele in the early hours of Saturday over his involvement in the planned protest.
However, Soyinka, in a statement on Sunday, titled, "Not Again!" insisted that the reasons given by the Inspector-General of Police for Sowore's arrest and detention was "totally contrived and untenable, unsupported by any shred of evidence," calling it "a travesty and violation of the fundamental rights of citizens to congregate and make public their concerns."
Meanwhile, the Presidency and the DSS on Sunday also spoke on the planned protest.
While the Presidency through a statement issued by Garba Shehu, the President's aide on Media and Publicity, accused the convener of the protest of trying to attain power through undemocratic and violent means, the DSS, through its spokesman, Peter Afunanya, accused Sowore of "crossing the line, threatening public safety and social harmony of Nigeria."
Soyinka's statement read in part: "Nothing that he (Sowore) said to me in private engagement ever remotely approached intent to destabilise governance or bypass the normal democratic means of changing a government. I, therefore, find the reasons given by the Inspector-General of Police for the arrest and detention of this young ex-presidential candidate totally contrived and untenable, unsupported by any shred of evidence. His arrest is a travesty and violation of the fundamental rights of citizens to congregate and make public their concerns.
"This is all so sadly déjà vu. How often must we go through this wearisome cycle? We underwent identical cynical contrivances under the late, unlamented Sani Abacha, when he sent storm-troopers to disrupt a planning session for a similar across-nation march at Tai Solarin School, Ikenne.
"This was followed up by a personalised letter that was hand-delivered by the State Security Services to me under their summons, at their Abeokuta so-called 'Annexe' with near identical wording to the threats contained in today's release from the desk of the Chief of Police. At least, I was summoned, not subjected to a terrorist midnight arrest. Some irony!"
Speaking for the DSS, Afunanya, who addressed journalists in Abuja, officially confirmed that Sowore was in the agency's custody, though he did not reveal where he was being held.
He said: "He (Sowore) is with us because he has crossed the line, he has threatened public safety; Sowore has, as a matter of fact threatened the peaceful coexistence, social harmony of Nigeria and there is apprehension, there is anxiety, citizens are worried as to what would happen next.
"There would not be anything like a revolution."
Afunanya said the DSS was convinced that Sowore was working with some undisclosed foreign interests, insisting that the planned protests will not hold today.
"We are aware that he is also working with some persons outside Nigeria to cause disaffection, chaos and anarchy in the country and we will not stand by and watch that happen.
"The DSS is a responsible security and intelligence agency; it adheres strictly to the fundamental principles and tenets of democracy; it is statutorily charged with responsibilities for the detection and prevention of crises and threats against the internal security of Nigeria .
"More importantly, the Service is also charged with the responsibility of managing, containing and eliminating threats against the national security of Nigeria and these include threats of sabotage, subversion, terrorism and, of course , threats of espionage, including ethnic and separatist agitations, economic sabotage and so on.
"If we are operating as a responsible organisation and someone is calling for a revolution in Nigeria, what is a revolution? It is primarily a revolt, it means insurrection, insurgency, it means forceful takeover of government.
"Nigeria operates a democratic system; it is not a banana republic and cannot suddenly be made into one.
"Nigeria is respected in the comity of nations, it is the pride of Africa. The DSS will not sit by and watch someone and his cohorts threaten the peace and constitutionalism. As to whether Sowore is wth us or not, the answer is in the affirmative – Sowore is with us."
"We want to use this opportunity to assure law-abiding Nigerians, friends of Nigeria and people of the world that come tomorrow, 5th of August, 2019, there'll be absolute peace in Nigeria and nothing would happen, there won't be any revolution.
"The government that has been elected democratically will remain in place, there will not be any forceful takeover of government and the DSS will not stand by and watch self-serving people take the laws into their hands
"We will do all that is within the law to discharge our responsibilities and ensure that there is peace in Nigeria tomorrow," he said.
Reacting to the scheduled 'revolution' protest the Presidency, in the statement by Shehu said: "Following calls circulating on social and digital media, an organisation that calls itself the 'Global Coalition for Security and Democracy in Nigeria' plans a 'revolution' march tomorrow, Monday 5th August, with the aim of bringing 'regime change' in Nigeria without recourse to a nationwide vote.
"The President of Nigeria and his administration respect and uphold the right of every Nigerian to peaceful protest and civil campaign– whether to raise awareness on issues, and even oppose the government. It is the inalienable right of all citizens of the Federal Republic of Nigeria to do so.
"There is, however, a difference between peaceful call to protest and incitement for a revolution.
"The organisation championing this planned action is not fronted by any serious public faces. We call on the sponsors and organisers to have the decency to come forward and make their identity known – out of respect to all Nigerians – so that Nigerians can be fully aware in whose name this 'revolution' is being proposed and who the beneficiaries may be.'
"Those making the 'revolution' call hide behind the veil of social media modernity. But without revealing the identity of their sponsors, this shadowy campaign is no better, and no more democratic than the days of old.
"The President calls on all those who seek to use and hide behind everyday citizens to attain power through undemocratic and violent means, which has been alluded, to come out clearly and be identified.
"They should lead their march in person. Only then will they begin to have the right to call themselves leaders before the people of Nigeria."