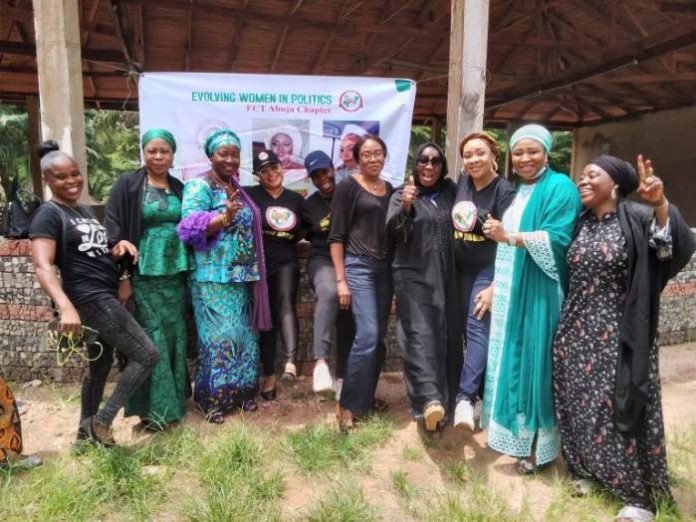 Evolving Women In Progress (EWIP), Abuja Branch, a Non-Governmental Organisation (NGO), has called for 50 per cent involvement of women in politics for the development democracy in the country.
Hajia Hadiza Kolo, the Coordinator of the group, made the call in an interview with the News Agency of Nigeria (NAN) in Abuja, shortly after the first 'Meet and Greet' with Abuja Municipal Area Council (AMAC) chapter.
Koo said the Beijing declaration that proposed 35 per cent participation of women in politics had not been achieved, adding that there was need for equal participation of women in decision making worldwide.
She said EWIP is an organisation that sought to mitigate violence against women during elections and encourage participation of women in politics in the country.
"We are gathered her to educate women to register, get their Permanent Voter Cards, vote and be voted for during elections to fill political offices in the country.
"EWIP is a worldwide affair with a political undertone and our message is to also encourage women to go into politics and contest into elective positions to encourage equal representation.
"We need 50 per cent involvement of women in politics and if it's not possible, it can be negotiated because the 35 per cent Beijing declaration for women participation in politics has not been achieved.
"I think we have achieved about 28 per cent, that is still a long way to go and I am seeing a world where women are included 50-50 in making decisions worldwide," she said.
AMAC supervisor of the group, Winniefred Akagha, said every woman needed to be trained to become prospective leaders in the society, adding that massive advocacy and sensitisation could positively influence women participation in politics.
The supervisor said that the participation of more women in the running of affairs of the nation would encourage sound decision-making and national development of the country.
However, she called on women in the country to register and collect their Permanent Voter Cards (PVCs) and take advantage of their numerical strength, education and global democratic trend to find a space in politics.
"My advice for women is to come out, get involved in politics and have a voice by getting into leadership, at least 50 per cent involvement into political offices.
"Lets make a change, get your PVC, your voices can be heard without shouting, just your appearance is your voice, standing on the line is your voice and supporting someone is your voice," she said.
READ ALSO: [email protected]: ActionAid Urges Nigerians To Reflect, Stand Up For Country
"An increased number of skilled and knowledgeable women can promote gender equality in leadership roles and decision making in every sector of the economy, and at all levels with adequate support," she said.
Mrs Safiya Umar, a member of the group said there was need for adequate sensitisation of women participation in politics, especially at the rural communities to encourage them into politics.
She called on law makers to bring laws that guarantee women political participation in Nigeria and laws that protect the dignity of women from all forms of violence before, during and after the elections.
According to her, it is important to encourage women to support each other to individually and collectively work together to achieve gender equality in leadership roles.
She, however, advised government at all levels and organisations to provide and support women with the platforms to voice their opinions and ideas for women and effective participation in leadership roles. (NAN)