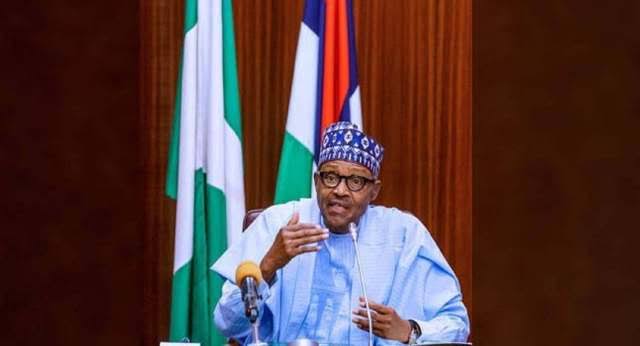 President Muhammadu Buhari has directed the Inspector General of Police, Mohammed Adamu, to address conclusively, the concerns of Nigerians regarding police brutality.
Buhari spoke on Friday via Twitter following two days of sustained protests by Nigerians across several states pressing for the total disbandment of the police Special Anti-robbery Squad, SARS.
Tweeting @MBuhari on Friday night, the President appealed to Nigerians to be patient and calm even as he acknowledged their right to "peacefully make their views known."
The President equally noted that majority of the police personnel were patriotic and committed to protecting Nigerians.
He wrote: "I met again with the IGP tonight. Our determination to reform the police should never be in doubt. I am being briefed regularly on the reform efforts ongoing to end police brutality and unethical conduct, and ensure that the Police are fully accountable to the people.
"The IG already has my firm instructions to conclusively address the concerns of Nigerians regarding these excesses, & ensure erring personnel are brought to justice. I appeal for patience & calm, even as Nigerians freely exercise their right to peacefully make their views known.
"The vast majority of men and women of the Nigeria Police Force are patriotic and committed to protecting the lives and livelihoods of Nigerians, and we will continue to support them to do their job."
Meanwhile, the protests turned violent in some states on Friday.
In the Federal Capital Territory, police used tear gas to disperse protesters while in Ogun state, protesters vandalised a police station
Meanwhile, the protesters in Lagos State have vowed not to back down until the government addresses their demand to end police brutality and intimidation carried out by men of the Special Anti-Robbery Squad.
The protesters had spent the night on Thursday outside of a government building.
Addressing the protesters, on Friday at Alausa, Ikeja, the state capital, one of the conveners and popular comedian, Debo Adebayo, noted that the youths were tired of the killings and harassment from SARS, stressing that they will never back down until they achieve their aim.
READ ALSO: Court Remands Policeman For Allegedly Killing UniJos Student
"We are not backing down, we can never back down. Look at everybody here, now I cannot even count the number of people that are here.
"It is because we are tired. When we came here, we didn't have five per cent of this number the last time we came here for a protest.
"This is to say that the youths are waking up. While you are waking up, don't give them another opportunity to shoot us down.
"Don't give them another excuse to shoot us down. Like I said earlier, we are not here for politics. We are here because we are tired. Enough is enough."
The Next Edition reported earlier that the state House of Assembly lent its support the protesters and in an emergency sitting adopted a seven-point resolution, one of which was rhat "SARS be proscribed and a new security outfit which will be more efficient with clearly spelt out code of conduct and rule of engagements be established while sanction is imposed for misdemeanor."
Protests are being planned outside of Nigerian embassies in some countries.