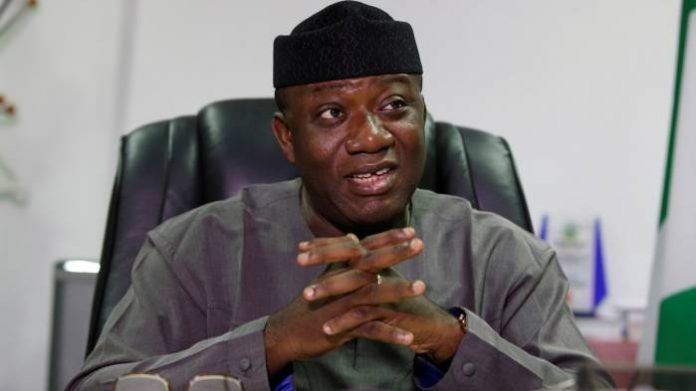 Ekiti State Governor and Chairman of Nigeria Governors' Forum, Dr. Kayode Fayemi, on Sunday said that he and his colleagues were worried about the discontent, hunger, and anger in the country.
Fayemi, who spoke at a Special Thanksgiving Mass held at St. Patrick's Catholic Cathedral, Ado Ekiti, as part of activities to mark the second anniversary of his administration in office, however, expressed the governors' preparedness to work with other stakeholders to find a lasting solution to the issues.
READ ALSO: Insurgency: Gov Zulum Declares Day Of Fasting, Prayers
Fayemi said, "There is a lot of anger in the land, there is a lot of hunger in the land, pent-up emotion. There is disillusion in the land. As a young man who spent much time in the barricades protesting bad governance, I can understand what is going on now.
"Myself and my colleagues are concerned and we are committed to reforms not just about SARS because we will be making a mistake that the general disaffection in the land is all about SARS.
"Like Your Lordship (the Bishop) had said, the government should be allowed to address the problems that have cropped up."
Fayemi who described himself as a product of God's mercy asked for forgiveness from those he might have offended in the discharge of his duties as the State's Chief Executive
He noted that he would always be thankful to God for giving him the grace to serve Ekiti people again, adding that he sees himself as an instrument in God's hands and his governorship seat as a missionary work.
He added: "If I had gotten my second term normally. I would have ceased being governor now and I know I wouldn't have been NGF Chairman now. God has a purpose on our lives."
Earlier, the Catholic Bishop of Ekiti Diocese, the Most Reverend Felix Ajakaye,  commenting on the nationwide protests over police brutality in his homily, called for an immediate end to the protests
He said: "The Federal Government should listen to the grievances of the people not only on ENDSARS but on terrorism and other things that are wrong in our country. END SARS protest should end, leaders' indifference to people's life, bad governance, insincerity and distrust should end.
"There is hunger and anger in the land and the government should act promptly. The protesters should suspend their protest immediately because if it continues, it may be counterproductive. We have those among them who are using the protest to protect their criminal activity."
Some dignitaries at the thamksgiving Mass included the Ondo State Governor, Mr. Oluwarotimi Akeredolu; Ekiti State Deputy Governor, Otunba Bisi Egbeyemi; Ondo State Deputy Governor-elect, Mr. Lucky Ayedatiwa; Ekiti State First Lady, Erelu Bisi Fayemi; former Ekiti State Governor, and now Minister of Trade, Industries and Investments, and Otunba Niyi Adebayo.
Others include Ekiti State former Deputy Governors, Chief Paul Alabi; Chief Abiodun Aluko and Prof. Modupe Adelabu; Speaker, Ekiti State House of Assembly, Rt. Hon. Funminiyi Afuye; cabinet members, state lawmakers, traditional rulers, Bishop Emeritus of Ekiti, Olatunji Fagun, leaders of market women and Community leaders among others.