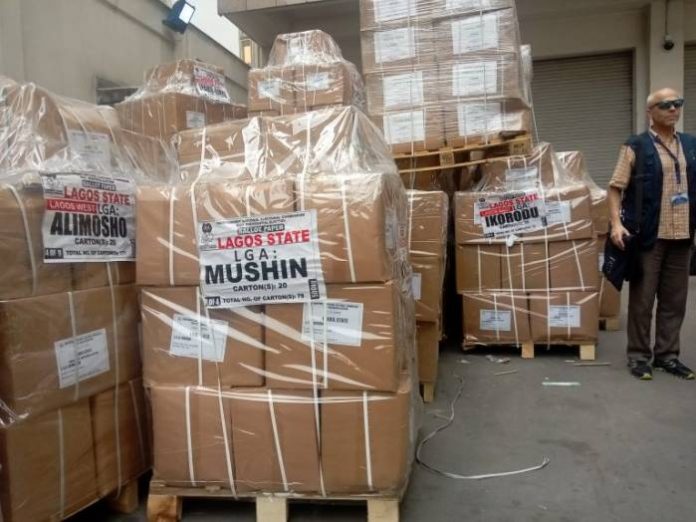 The Independent National Electoral Commission (INEC), has begun distributions of electoral materials to the 20 Local Government Areas (LGA) in Lagos state, ahead of the Presidential and National Assembly elections.
The state Resident Electoral Commissioner, Mr. Olusegun Agbaje, confirmed this to journalists at the Central Bank of Nigeria office, Lagos on Wednesday, where the materials were kept.
Agbaje said that all the materials would be distributed on Wednesday to the LGAs where the electoral officers from each council would do the final distributions on election day.
He said that all political parties were invited for the distributions which showed that Lagos State had enough materials for the elections.
"The symbolic of this exercise today is to tell Nigerians, especially residents of Lagos state that we are ready for the elections on Saturday.
"We have enough materials. We even have surplus. We don't have problem with ballot papers and other sensitive materials.
"The police and soldiers will escort all trucks to various Local Government Areas," he said.
The Commissioner of Police in charge of Lagos command, CP Idowu Owohunwa, said that the exercise was one of the police electoral mandates to provide security for the citizens, electoral materials in transit or office, INEC officials and observers.
READ ALSO: New Naira: Aisha Buhari Denies Sharing Fake CBN Release On Instagram
"What we are doing today is to join the INEC team in the distributions of electoral materials to different local government areas.
"We are to provide adequate security; and if I say adequate security, I mean adequate armed security that will follow all the trucks carrying the materials to Local Government Areas.
"At the local government areas, there are other police officers posted to ensure the safety of the materials before and during elections," he said.
Owohunwa said that as at now, all things were working according to plans, and there were no security challenges.
The News Agency of Nigeria (NAN) reports that 10 political parties agents were present at the distribution ceremony.
The parties includes: Action Alliance, Action Democratic Party, African Action Congress, All Progressives Congress and Allied Peoples Movement.
Others are: Labour Party, National Rescue Movement, New Nigeria Peoples Party, Peoples Democratic Party and Young Progressive Party.