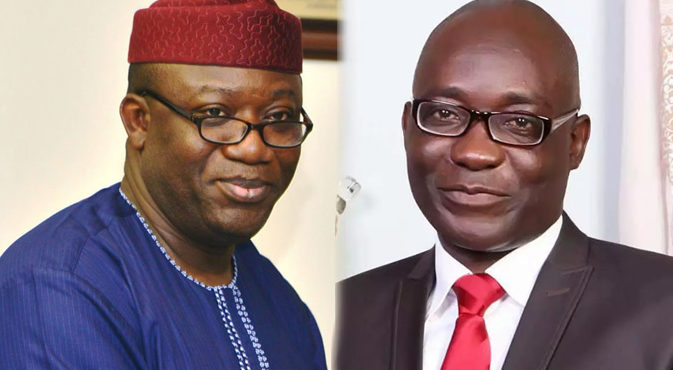 The Ekiti State Governorship Election Petitions Tribunal on Friday in Abuja admitted as exhibits, electoral materials used in about 10 Local Government Areas and 109 Wards for the July 14, governorship elections.
Mr. Yusuf Ali (SAN), counsel to the Peoples Democratic Party (PDP) governorship candidate at the elections, Prof. Olusola Kolapo, tendered the materials as part of evidence to prosecute his case.
Electoral materials from Efon (10 wards), Ekiti East (12 wards), Ekiti West (11 wards), Ekiti South(11 wards), Emure (10 wards), and Gbonyin (10 wards), Ido Osi (11wards), Ijero (12 wards), Ikole (12 wards), Irepodun Ifeladun (11 wards) and Ilejemeje (10 wards) have been admitted as exhibit so far.
However, counsel to the Independent National Electoral Commission (INEC), Mr. Charles Uwensuyi (SAN), raised an objection to the admissibility of the documents, on the grounds that they were not pleaded and some were not certified true copies and should therefore, not be admitted. He also contended that some of the wards mentioned were not in contention.
Justice Suleiman Belgore, Chairman of the three-member tribunal, admitted the documents saying all objections should be reserved and incorporated in the final addresses of the various defendants. He also held that documents admitted as exhibits could still be expunged at the end if necessary.
Counsel to Gov. Kayode Fayemi, Mr. Akin Olujinmi (SAN), objected to all the polling units and voting points not in contention in the petition.
READ ALSO: 2019: PDP warns against submission of unauthorized names to INEC
Ali in his response said he pleaded all the documents and certified true copies of the electoral materials attached to prove his case and promised to bring evidence of payment to all Certified True Copies of documents tendered.
Ekiti State had 177 wards with 2,197 polling units in 16 Local Government Areas while electoral materials from 11of Local Government Areas, with 109 wards had been admitted as exhibits.
The PDP and its candidate, Kolapo, had approached the tribunal, challenging the declaration of Fayemi of the All Progressives Congress (APC) as the winner of the July 14, governorship elections.
The case was adjourned until Saturday, Oct. 20, for continuation of hearing.