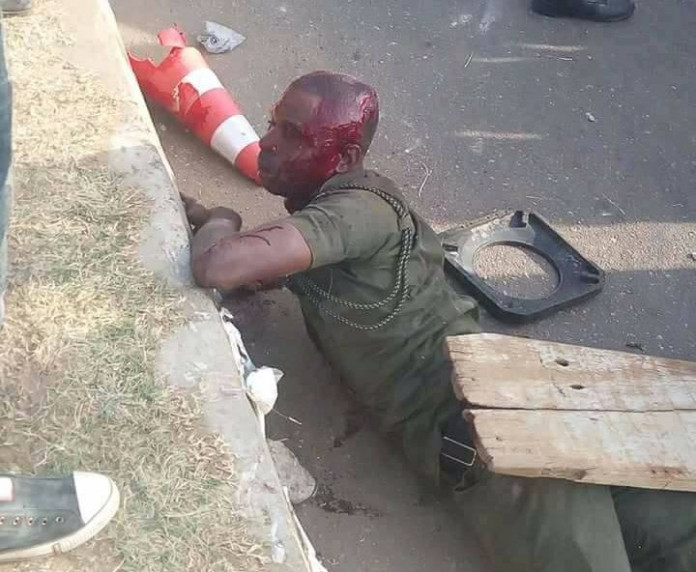 No fewer than five other persons sustained serious injuries and are being treated in the hospital along with former member of the House of Representatives, Opeyemi Bamidele.
Bamidele and the other five persons were shot on Friday at the reception organized for Kayode Fayemi, the All Progressives Congress' governorship candidate in Ekiti, at Ado Ekiti on Friday.
The gunman was said to have targeted Fayemi, but missed his target and ended up shooting Opeyemi and five other persons.
According to a statement issued by the party's Publicity Secretary in the state, Taiwo Olatunbosun, the five people were already receiving treatment along with Bamidele.
The other persons are Olabode Joshua, Olanrewaju Gbenga, Adebayo Ogunjemilehin, Ogunmodede Oluwole and Alex Adeleye.
Olatunbosun explained the incident in the statement saying that bloody politics had returned to Ekiti State.
The statement reads:  "Bloody politicking returned to Ekiti State yesterday (Friday), as former Governor Kayode Fayemi survived assassination in Ado-Ekiti, Ekiti State capital.
"Fayemi resigned his appointment on Wednesday as the Minister of Mines and Steel Development and was returning to Ekiti State on Friday in a welcome party planned by his party, the All Progressives Congress (APC).
"It was a smooth ride from Akure Airport to Ikere-Ekiti where thousands of supporters came out to give him a rousing welcome.
READ ALSO: 2019 Election: Reps kick against use of electronic voting
"Ikere-Ekiti journey to Ado-Ekiti, a distance of about nine kilometres, lasted two hours in a heavy traffic that was punctuated by four gunmen suspected to be agents of the state government who strategically positioned themselves at the party's secretariat in Ado-Ekiti for the attack.
"One of the assailants dressed in mobile police uniform was apprehended and he is now helping the police in their investigation.
"They  fired gunshots aimed at Fayemi but hit a former lawmaker, Opeyemi Bamidele, after the former minister had taken a few steps forward before the bullets hit the target.
"Bamidele and other victims were immediately rushed to the Ekiti State University Teaching Hospital, Ado-Ekiti, where doctors are responding to his treatment.
"Bamidele was fatally wounded in the attack while others also sustained various degrees of injuries.
"Other victims in the hospital included Olabode Joshua, Olanrewaju Gbenga, Adebayo Ogunjemilehin, Ogunmodede Oluwole and Alex Adeleye."