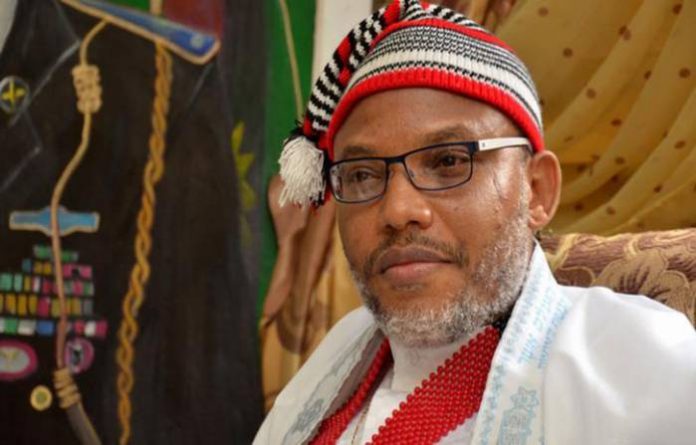 The Leader of Indigenous People Of Biafra (IPOB), Nnamdi Kanu, has attributed the free and fair governorship election in Edo State to threats by the United States of America against those who pose a threat to democracy in Nigeria.
In a statement he released on Monday, Kanu hailed the United States of America (USA) and her Ambassador to Nigeria, Mary Beth Leonard, for using threat of punishment to bring the ruling All Progressives Congress (APC) led Federal Government to do the right thing.
Kanu wrote: "Here is Mary Beth Leonard, the courageous US Ambassador to Nigeria that delivered the first truly free and fair elections in the history of Nigeria in Edo State yesterday.
"Something the EU & UK have failed to do for over 60 years.
"This amazing woman imposed ordinary visa ban on perennial election riggers and they quickly behaved themselves. Add a bit of Nyesom Wike and the tenacity of Igodomigodo and you have the perfect result."
Meanwhile, in another statement, Kanu raised the alarm that people believed to have links with his group were still harassed, abducted, tortured and killed in some parts of Igbo land in what he believed amounted to "deliberate ethnic cleansing."
He gave instances of Mazi Onyeka Udechukwu, a vigilante in Enugu State, allegeding that the "Nigerian security operatives on Friday, September 18, shot and shattered his father's private part with bullets at Ogui Road Enugu.
READ ALSO: Edo Election: Tinubu Denies Issuing Statement
"The victim's badly wounded father is currently receiving intensive medical treatment in a hospital," he said.
Kanu also cited alleged "ongoing abductions at Omuma Road Aba Abia State, Obigbo in Igweocha River state are being perpetrated by the Fulani terrorists in Nigerian security uniforms.
"More than two people have already been murdered. IPOB is monitoring all these atrocities, and those behind them must be prepared to face the consequences when the time comes.
"The latest victims of this criminality included Mazi Chukwudi Idika and 10 others who committed no crime known to mankind. The security officers in Abia State, also tortured an innocent woman and took her into custody without any provocation."