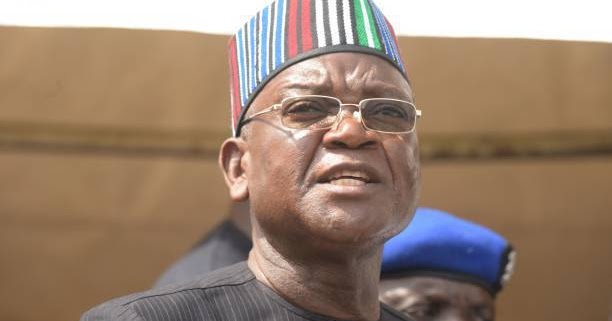 Communities of Agila in Ado Local Government Area of Benue State and those in Ngbo in Ohaukwu Local Government Area of Ebonyi state have been advised to sheath their swords in order to allow both state governments sort out their differences.
Benue State Governor, Samuel Ortom who made this appeal while reacting to the case of missing persons following a protracted crisis between those border communities said crisis can never bring development and rather called on the communities to embrace themselves as brothers and sisters for the common good of all.
The Next Edition recalls that the Chairman of Ado Local Government Area, LGA, Mr. James Oche, had raised an alarm, last week, over the sudden disappearance of nine persons in his domain.
READ ALSO: Leicester City Storm Back To Sink Manchester United 4-2
Oche who stated that there have been issues with Ezza and Effurum communities which escalated to Ado local government from Ohaukwu LG of Ebonyi, said the nine persons all disappeared on their way to Abakakili in Ebonyi State through the border communities which shares boundary with Benue state by Ado LGA.
Governor Ortom stated that, though the issues are beyond boundary clashes, efforts are being intensified by both state governments to arrest the situation and put it under control.
He noted that there's no meaningful activity going on within the two communities.
The Governor who regretted inheriting such a crisis said he would continue to try his best to ensure a peaceful coexistence between the communities.
While investigations are still ongoing to unravel what happened, Governor Ortom appealed to Benue indigenes residing in Ebonyi state to pay full allegiance to the state and the Ebonyi indigenes residing in Benue to also pay allegiance to Benue to pave way for peace and development.
"This is a problem I inherited and it is really an unfortunate challenge. It is a big problem when you have a situation where the same people who speak the same language with their kinsmen will continue to clash over small issues instead of settling it amicably. It is something we must stop.
"It is not a boundary issue but we are discussing with the boundary commission to see what can be done but I want to call on both sides that we must live as brothers and sisters and continue our normal businesses. All these years of killings, destruction and strife, what have been the gains for both sides?
"People should be allowed to engage in their normal activities. Their children are not going to school, no business or farming activities going on in the areas because of these crises. I want to beg the people in Ebonyi and those in Benue state to sheath their swords and allow both governments to come in and solve this problem.
"They must understand that If you are an Ado personality but residing in Ebonyi, pay your allegiance to Ebonyi and if you are from Ohagwu or any other LGA in Ebonyi and your kinsmen are there but you are residing in Benue state, your allegiance should be to Benue state.
"It is my responsibility to take care of you and it is the responsibility of the Ebonyi state governor to take care of those who are from Benue but are residing in Ebonyi. Boundaries are meant for administration convenience, it is not meant to divide us or to kill us or to create crisis between communities. So let us sheath our swords and be our brothers keepers," Ortom said.