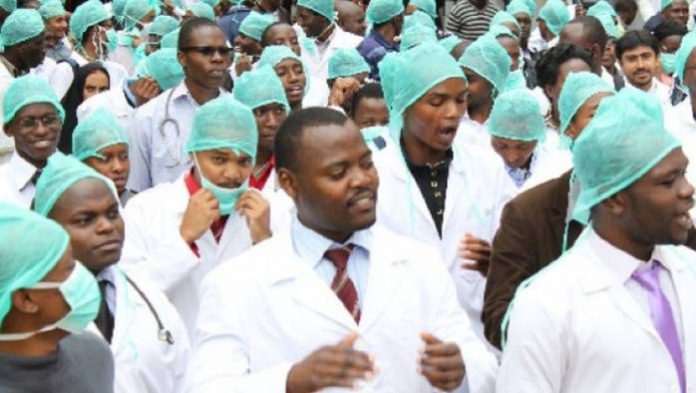 The House of Representatives has called on federal government and state governments to commence mass recruitment of doctors to curb mass migration of doctors.
The House made the call following the adoption of a motion moved by Yusuf Sununu on Thursday.
The lawmaker while moving the motion noted that Nigeria lost $1billion to medical tourism in 2017, noting that the country is currently below the required standard of doctors to patients.
Moving the motion, Sununu pointed to some negative index such as maternal and infant mortality, adding that the ratio of doctor to patience is below the recommended standard.
Further notes that the country is currently facing triple challenges of communicable diseases such as cholera, meningitis and tuberculosis and non-communicable diseases such as hypertension, heart diseases and diabetes and re-emerging infections like monkey pox and lassa fever;
Aware that the human resources for health (medical/health workers) to population ratio for the country is far below the ratio recommended by the World Health Organisation (WHO) given that the doctor to patient ratio for Nigeria stands at 1:6000, as against the WHO's recommended 1:600."
He blamed the situation on mass exodus of medical doctors out of the country as a result of embargo placed on recruitment, longer period in securing waivers for replacement of dead, retired or disengaged staff, poor job satisfaction, lack of capacity building, professional enhancement and fulfilment.
The house therefore resolved to "urge relevant agencies of government such as Budget Office of the Federation, Office of the Accountant General of the Federation, the national Salaries, Income and Wages Commission, and the vacancies currently existing in the hospitals and medical and health training institutions resulting from disengagement of staff.
Also Governments of the States of the Federation and federal capital Territory Authority (FCTA) to consider, with dispatch, the employment of medical and health professionals into the States and Local Government Health Services to fill existing vacancies and further bridge the gap in human resources for the health sector. (1st News)