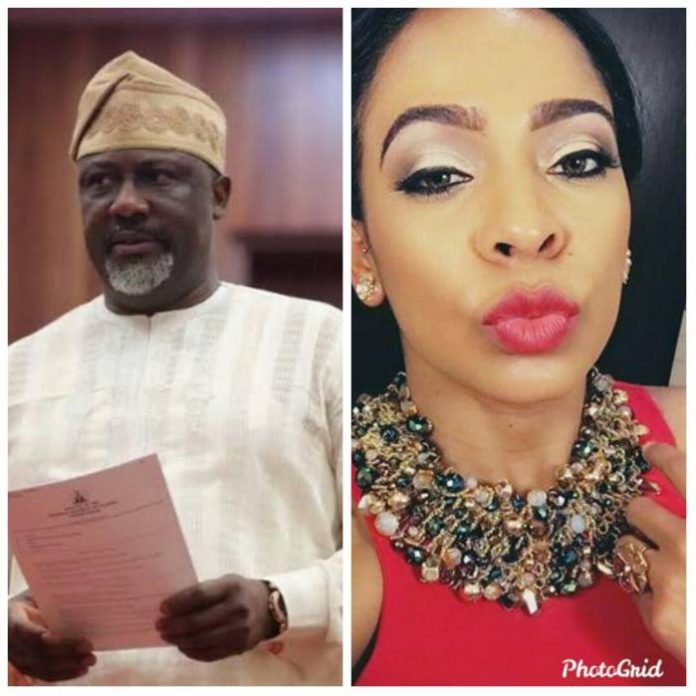 Senator Dino Melaye has denied rumours making the rounds that he's the father of the child of ex Big Brother Naija Star, Tokunbo Idowu, popularly known as T-Boss.
Like in the song, Billie Jean, by late Michael Jackson, Melaye has advised those he described as "Olodo" to note that he had never dated T-Boss and that "the kid is not my (?) son."
T-Boss recently shared pictures of her baby bump after months of speculation that the reality star was pregnant.
In throwback pictures showing off her baby bump posted on her Instagram page, the 35 year old did not state who the father of her child was.
There had been speculations concerning the paternity of her baby with some fingers pointing at the outspoken Senator from Kogi State, while others reportedly accused former Big Brother Africa (BBA) housemate, Uti Nwachukwu of being responsible.
In reaction to the rumours, the indefatigable Senator Melaye took to his Twitter page to deny vehemently that it wasn't him.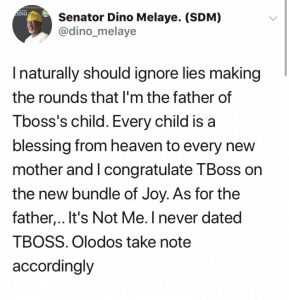 He said: "I naturally should ignore lies making the rounds that I'm the father of Tboss's child. Every child is a blessing from heaven to every new mother and I congratulate TBoss on the new bundle of Joy. As for the father… It's Not Me. I never dated TBOSS. Olodos take note accordingly."
With his statement, Senator Melaye has, therefore, absolved himself of the 'false allegations,' leaving only Uti, the anchorman of Jara in the centre.
Who is the father of her child? Only time will tell.