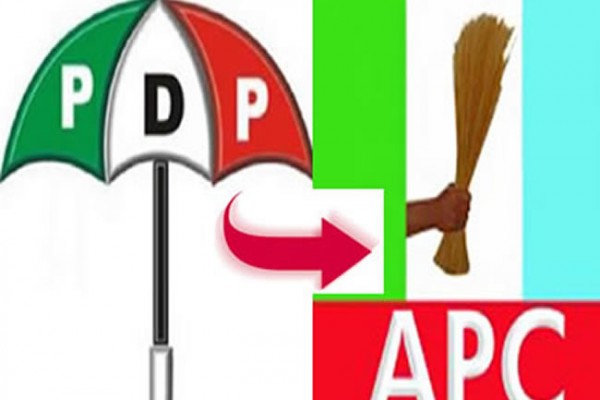 Efforts by former Governor Rochas Okorocha to wrestle the structures of Imo State All Progressives Congress (APC) may have hit the rocks as his men now appear to have dumped him in support of Governor Hope of Uzodinma.
Uzodinma recently received in audience the former Secretary to the Government of Imo State, Sir George Eche; former APC Chairman, Chief Hilary Ekeh; former commissioners and other appointees numbering over 100, who served in the Okorocha-led defunct 'Rescue Mission' administration who paid the governor a solidarity visit at the Government House, Owerri.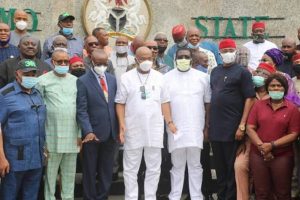 Speaking for former Okorocha's men, Mr. Jones Uzoka paid glowing tributes to Uzodinma for returning APC to power in the state, thereby giving them a sigh of relief.
The former commissioners and appointees said they had resolved to give Uzodimma all the support he needed to succeed, including the effort he had been making to ensure that the APC was made a strong and united party in Imo State and by extension, the South East.
Uzodimma, in his response, said the APC state congress would take place in an atmosphere devoid of rancour and bickering, even as he reiterated his resolve to build the party into a strong and united one.
The governor called on the APC members to put the past behind them and focus on politics that would take care of yesterday, today and tomorrow.
READ ALSO: Supreme Court May Sack Gov Uzodinma, Primate Ayodele Prophesies
The governor reminded them that they were one and would only make progress in a united APC where the party is seen as supreme.
"I am open to building a party that will serve the people. That is why I have invited all members to come home and help me to create happiness in Imo and that is the only thing that makes power meaningful.
"With effective, united, strong and viral APC in Imo State there is the tendency for APC to spread and capture power in the South East by being in power not only in Imo but in the other four States of the Zone."
Uzodinma regretted that the local government election had not yet been conducted because of the coronavirus pandemic and the need to achieve unity in the party.
On the forth coming Imo North (Okigwe) Senatorial bye election, he said he had no candidate of his own and that if he was opportune to vote, he would only vote for one of the 13 candidates, like every other legible APC member in the state.
Earlier, leader of the team and former Commissioner for Petroleum in Imo State, Mr. Jones Uzoka, said they came to pledge their unalloyed support to the Uzodinma administration and to support him to rebuild the party and avoid factionalisation.