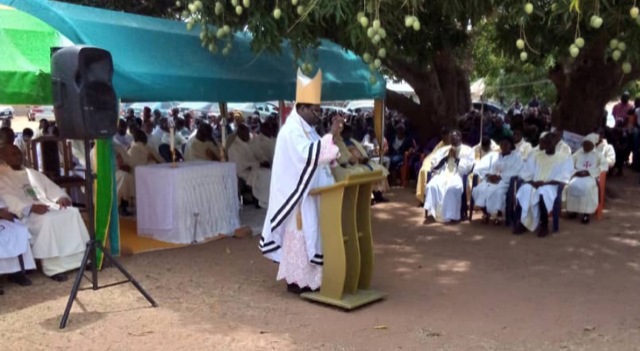 The Catholic Bishop Diocese of Makurdi Diocese, Most Reverend Wilfred Anagbe has encouraged the church to persevere in prayers and confessions to God hence no one knows when death will come.
The Bishop stated this at Saint Francis Catholic Church, Nyiekaa, Owner Occuppier Housing Estate, Makurdi, while addressing the large crowd of faithful that converged to pray for the reposed souls of dead members and quick recovery of those injured in an auto crash involving members of the Catholic Women Organization, CWO, on Thursday.
READ ALSO: U.S. Describes Russia's Suspension from Human Rights Council As "Historic"
The Next Edition reports that the women were returning from a burial of one of their members when their bus crashed into a tree killing the driver, four women while others sustained various degree of injuries.
In a homily during a Mass, Most Reverend Anagbe who stated that the church was pained by the tragedy saying that their sudden death will bring the mercy of God on them.
He pointed out that they died while performing the coporal works of Mercy which is to bury the dead.
Anagbe explained that it was the time allotted by God for them to die and advised those attributing it to witchcraft to accept it as God's will saying an accident can happen at anytime.
He prayed God to give the Catholic Diocese, entire parishioners and parish priest of Saint Francis Catholic Church, Nyiekaa, Owner Occuppier, Reverend Father John Agbo, families and friends of those who lost their loved ones the fortitude to bear the irreplaceable loss.
The Mass was attended by officials of Christian Association of Nigeria, CAN, in the state among other sympathizers.