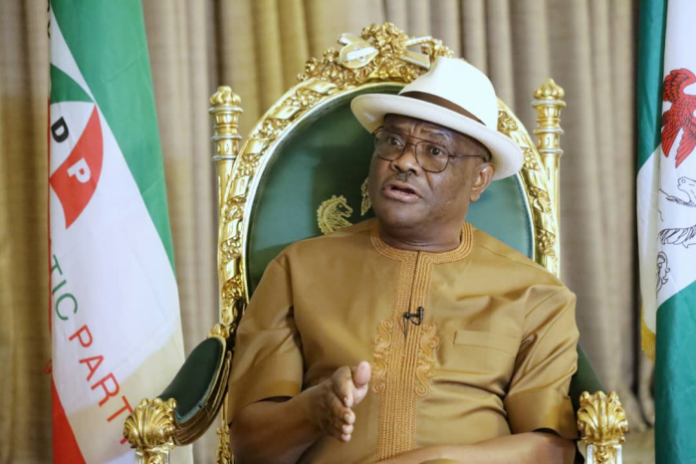 The All Progressives Congress (APC), Rivers State Chapter, has taken a swipe at the State government saying Governor Nyesom Wike and his government were jittery because he would not like to be called upon to account for his financial transactions.
The party was reacting to media release by the Rivers State Government titled "RSG sends alert on orchestrated media campaign" in which Governor Wike alleged that APC planned to use selected media houses in the State to denigrate his government.
The government claimed that the imaginary media campaign was as a result of "the intimidating sterling performance of Governor Wike in infrastructure, healthcare, education, agriculture, rural transformation, housing development, administration of justice, social welfare and Sports development"
It in a swift reaction to the statement, the APC through its Spokesman, Ogbonna Nwuke, said the APC has not concocted any plan to sponsor any media campaign the government of Wike.
In the statement, the APC said the Rivers people are well aware that Governor Wike runs a government that is out to punish and impoverish them for the benefit and sustenance of a few party lords who feeds fat on the commonwealth.
"Wike's greed, maladministration, incompetence, garrulousness, hatred for accountability and lies is enough media campaign for Rivers people to reject Wike and his cult of brigands who are out to milk Rivers State dry.
"The truth of the matter is that Dr. Dakuku Peterside, a leading light in Rivers State, celebrated columnist and a major stakeholder in APC have been invited by different media organizations in Rivers State to X-ray state and national development issues in line with his regular weekly column that commands wide followership.
"Dr. Peterside, a well known national figure who has earned his place in national discourse was invited as an individual and not as representative or spokesman of the APC.
"The question agitating the minds of Rivers people is why is Governor Wike jittery? It is obvious Governor wike and the government he leads hates to be asked to account for their financial transactions.
"To fully understand Wike's fear is to appreciate that no government in the history of Rivers State has dished out so much lies as the present government has done, with a clear intent to deceive all and sundry."
The APC said Governor Wike has embarked on building bridges that have no impact on the local economy or the welfare of the people and while he (Wike) and a tiny clique of party lords are getting rich from the common purse, majority of Rivers people, including PDP members are being impoverished.
The APC said Rivers State Government under Governor Nyesom Wike can only boast of their record of renovation of schools and a handful of hospitals as legacy projects for a state that earned more that N2.4 Trillion in six years.
READ ALSO: Lalong Condemns Destruction Of Farmlands By Criminals
"Out of a homongous sum of N2.4 trillion, it is on record that a total of N200 billion was donated to unworthy causes while pensioners are being owed, workers denied their promotion and other entitlements while the State Secretariat Complex stinks and depreciates.
"Wike's personal legacy includes buying up all the available land in Port Harcourt and forcefully recruiting young people to join his "group."
The party lamented that Governor Wike has taken Rivers State 10 years back from where he met her saying the APC would respond at the appropriate time.
"While the APC which is gathering statistics on the expenditure pattern of Governor remains committed to its historic mission, our take, there is absolutely no need for the Government to be consumed by imaginary illusions that are obviously making it jittery at this time," the APC said.