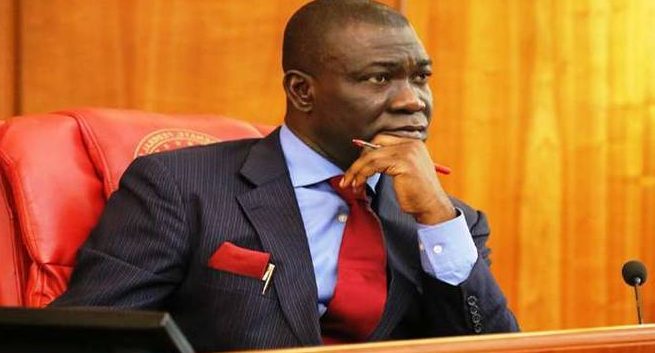 The leadership of the Coalition of United political parties, CUPP, has condemned the failed attempt to assassinate the Deputy Senate President, Ike Ekweremadu, whose house was invaded by armed men while still asleep with his son and wife.
A statement issued by Ikenga Imo Ugochinyere, National Spokesperson CUPP described the incident as "shocking, a sad development and a danger signal that homes and lives of key opposition leaders are no longer safe."
It said further that the act was shameful given the number of policemen on duty at the time of the foiled attack.
Part of the statement read: "It is also worrisome that this attack is coming months after a previous failed attempt on the life of the Deputy Senate President which was formally reported to the police but has not been investigated talk less of arresting the culprits.
"We demand that the arrested assassin who led the armed attack on the home of Ekweremadu be properly interrogated to ascertain the real sponsors of the failed move to harm the key opposition leader."
READ ALSO: 2019: Akpabio assures of victory for APC in Akwa Ibom
The opposition movement also raised an alarm alleging an increasing bloody attack on key opposition leaders at the ward, LGA and state levels with nothing being done to bring the culprits to justice.
"This careless act of treating the lives of opposition leaders at different levels like chicken is a dangerous signal that can derail the smooth conduct of the 2019 election.
"We wish to state again that the growing insecurity in the country which has seen murderous gangs springing up from different parts of the country is as a result of the lack of capacity and desperation by the none performing and outgoing Buhari regime to hang on to power at all cost thereby neglecting their basic constitutional duties of protecting lives and properties.
The opposition wish to state it loud and clear that the President and his tactless Inspector general of Police have displayed high level of incompetence to deal with the growing security challenges in the country and for the sake of the thousands that have been massacred because of this incompetence, that the president should immediately sack the incompetent inspector general and appoint a gallant and committed officer of the police that will help check the growing internal insecurity in the country."