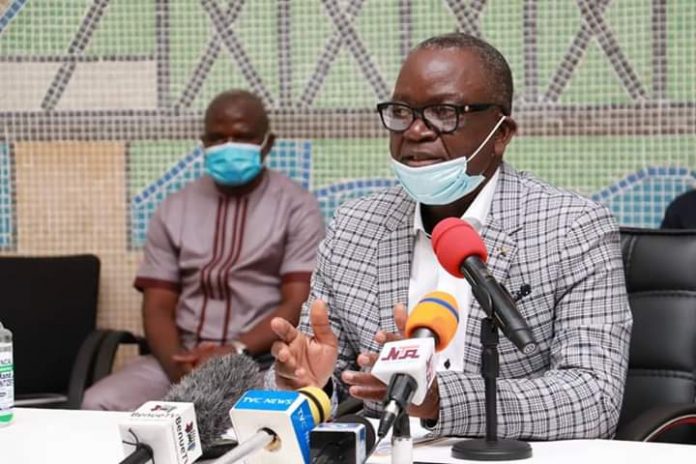 As schools in Benue State resume for the second term academic session, managements have insisted that Covid-19 safety protocols must be observed.
The Next Edition correspondent who went round some schools in Makurdi town observed that both parents and school managements were on the same page on the need to keep the children safe.
At Kids Authority Education Centre, a Nursery and Primary school in Makurdi, parents complied with school rules as most of them brought their children to school wearing facemasks.
Speaking to our correspondent, a parent who didn't want to be named said they were already instructed to wear the kids facemask and also wear same as anyone who brought children without face mask will be turned back at the gate.
Similarly, when our reporter visited St. Dominic High School, Makurdi, most boarding students had returned on Sunday, January 17, 2020, while those coming in on Monday morning were checked thoroughly to ensure they were wearing facemasks and having sanitizers.
READ ALSO: COVID-19 Test Not Requirement For Students' Resumption– Education Ministry
At the Benue state University, the Vice Chancellor, Professor Joseph Iorapuu, went round the school premises to inspect the offices and lecture halls in readiness for resumption.
He told journalists that the institution is ready for resumption and all Covid-19 protocols are being observed.
Meanwhile, the Task Force on Intra Covid-19 University Activities (TICAU), has called on students and staff to make use of hand washing materials provided at strategic positions within the school premises.
The Chairman of the taskforce, Professor Linus Saalu, in a statement tagged "Promoting Behaviors that reduce the spread of Covid-19 As Academic Activities Resume In the University," advised staff and students to adhere to wearing of facemasks, maintaining social and physical distancing.
The chairman, among other rules, also urged staff and students to stay at home and follow the state COVID-19 rules if they have tested for it and are showing symptoms or have come in contact with a positive person.