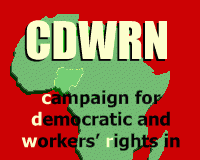 Campaign for Democratic and Workers Rights (CDWR) has called on the Federal Government to put in place measures to protect healthcare workers as they battle the Coronavirus pandemic in the country.
CDWR in a statement signed by its National Chairperson, Rufus Olusesan, also called on Trade Union leaders to mount a campaign to protect the interest of Nigerian workers during this period.
Read the full text of the release below:
"COVID-19 Pandemic is raging across the world with over 25,000 deaths and over 500,000 infections. Across the world, medical workers as well as other essential workers have been on the frontline doing yeoman job treating infected patients and doing everything humanly possible to check the spread.
"Just like soldiers in war front, workers, mostly health workers across the globe have been risking their lives fighting the pandemic, in some cases with inadequate protective gears and poor pay. Nigeria's ruling government just like their counterparts in many countries is not adequately prepared for a serious response to the spread of COVID-19 pandemic due to long years of underfunding and neglect of the health sector. For instance, there are less than 500 ventilators in the whole country (Nigeria), 5 testing centres etc.
"It is unfortunate that Nigeria's federal government budgeted a paltry N440 (4.16%) billion for the health sector for 2020 budget, a far cry from the 15% budgetary allocation agreed by African leaders in the Abuja Declaration of 2001 while wealthy Nigerians (ruling elite, top political office holders etc) regularly embark on medical tourism and spending over $1 billion annually. CDWR is demanding that Nigeria should spend 5 percent of its GDP on health as recommended by World Health Organisation (WHO) in order to revamp our healthcare infrastructure and employ adequate well-trained medical workers.
"Campaign for Democratic and Workers Rights (CDWR) calls on the government and company owners to put in place strict compliance to safety precautions at all workplaces including having provisions for handwashing, ambulance/vehicles to convey workers to hospital, sickbays, social distancing at work etc. We also demand job protection for all private and public sectors workers, particularly the casual workers with no loss of pay as a result of disruption emanating from the COVID-19 pandemic. The trade union leaders should mobilise to ensure compliance including if necessary embarking on warning strike to force employers of labour to adhere strictly to occupational safety measures in the face of the pandemic.
"Characteristically, the capitalist class would want to force workers to pay for the crisis arising from the pandemic in form of fractional salary and allowances, job losses, etc. We call on the trade union leaders to resist any job losses and loss of emoluments across the federation and sectors of the economy.
READ ALSO: Coronavirus: Pandemic Is 'Accelerating', WHO Warns As Cases Pass 300,000
"The reality is that we cannot stop COVID-19 without protecting and motivating healthcare workers, hence CDWR Demands the following for health workers in frontline:
1. N100,000 monthly special COVID-19 allowance for health workers who are in the frontline.
2. A special Life Insurance Scheme for health workers who die while fighting the pandemic.
3. Suitable working hours with breaks or rest period including off duties for medical workers.
4. Adequate instruction and training on work safety and procedures for all health workers in the frontline.
5. Periodic and regular testing for healthcare workers in the frontline.
6. Provision of safety health kits including face mask, nose guards, overall, hand gloves, respirators etc., for health workers, poor masses and patients.
7. Provision of conducive healthcare working environment for health workers and patients including temporary housing facilities.
"CDWR feels strongly that the above demands for health workers will encourage health workers in the frontline to give their best and assist in arresting the pandemic. The trade union leaders should take up the above demands and insist on its implementation."