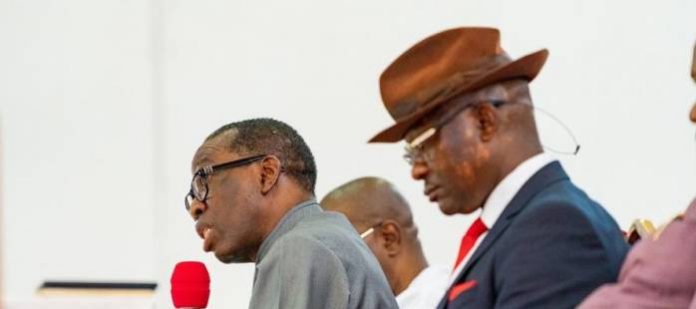 Two media Aides to Governor Ifeanyi Okowa, Delta state Governor, including the Public Relations Officer (PRO) Government House Press unit and 43 others have tested positive to COVID-19 disease in the state.
The media Aides: Nelson Egware, a Senior Special Assistant ( SSA) media, Fidelis Egugbo, Special Assistant ( SA) media, and Kingsley Obiajuru, Public Relations Officer (PRO) Government House Press unit, were confirmed positive on Wednesday.
According to reports, their samples were collected and forwarded to Irrua Specialist Hospital in Edo state for screening and they returned positive.
The state governor before proceeding on a two-week self-isolation after his wife and daughter tested positive, had ordered a total screening for all workers in the Government House including the press unit.
He told those who would refuse to go for testing to consider themselves sacked.
READ ALSO: COVID-19: Delta Council Workers Hold Prayer Session For Okowa, Others
Confirming this to Journalists in Government House on Wednesday, the Chief Press Secretary (CPS) to the Governor, Mr. Olisa Ifejika, said the two media Aides and the PRO were screened four days ago, adding that unfortunately, they tested positive to disease.
"It's unfortunate that two media Aides: Nelson and Fidelis Egugbo have tested positive to Covid-19 pandemic disease and they will immediately commence treatment at the isolation center. We must adhere strictly to the rules. When the Governor ordered that all the workers in Government House Press unit should carry out test for them to know their status, we complied immediately. We have shut down the Press unit and we are working online until everyone is treated for the virus, especially for those who tested positive," Mr. Ifejika said.
Meanwhile, the state Commissioner for Information, Mr. Charles Aniagwu has described as pathetic poor attitude of many Deltans to the rules and regulations to curtail the Covid-19 pandemic disease warning that the virus is real and can kill easily if not detected in time.
Aniagwu said "As I speak with you Journalists now, over 15 of Smart Delta Press unit have tested positive and they have been quarantined and have started treatment immediately. I have been treated and I am now well, but I am pained that some people in the state are saying that there is no COVID-19 pandemic disease. The virus is real and people are dying. We in Delta state have lost over 25 people to COVID-19 and so when people are saying that there is no COVID-19 pandemic disease, it makes me surprise and I want to say that the virus is real but no longer a death sentence if the victim follows it up and be treated for the disease."