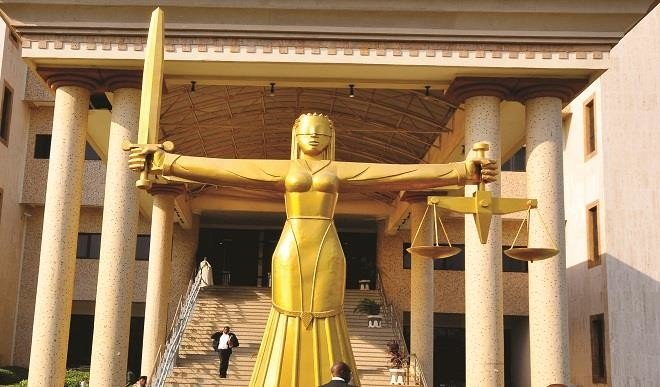 An Ikeja Sexual Offences and Domestic Violence Court in Lagos State, on Wednesday, sentenced one Idowu Adegoke to life imprisonment for sexually assaulting his neighbour's seven-year-old daughter.
Justice Abiola Soladoye held that the prosecution had sufficiently proved the charge of sexual assault against the convict.
Soladoye said that the evidence of the convict was self serving and only made to distance himself from the allegations against him.
According to her, the convict was a pathological liar as his documentary testimony was at variance with his oral testimony.
The judge said that the evidence of prosecution witness1 (victim)  corroborated the evidence of PW4 (medical doctor).
"The defendant was dishonest and deceitful by saying he did not have any contact with the survivor on the day in question or any other day at all.
"In the same breath, stated that he saw the victim attempting to use the bathroom with fresh concrete work done and spoke to her not to use the bathroom.
"The defendant also told the court that he informed the survivor's mother that he was only trying to tell the victim about the concrete work done on the bathroom floor.
READ ALSO: Buhari, Others Hail Osinbajo At Public Presentation Of Book In VP's Honour
"This is an attempt to lie his way out of the case.
"The court finds that the evidence of the respective witnesses were truthful, credible, cogent and believable.
"The conduct of the defendant is unbecoming of a neighbor and condemnable.
"The court having found the defendant guilty as charged, he is consequently convicted and sentenced to a term of life imprisonment.
"His name is also to be entered in the Sexual Offenders Register as maintained by the Lagos State Government," Soladoye held.
The state prosecution team, comprised of Mr. Olusola Soneye, Mrs Olufunke Adegoke and Ms Abimbola Abolade, presented four witnesses to testify while the convict testified as a sole witness.
Five Exhibits were also tendered during the trial.
The prosecution submitted that Adegoke committed the offence on Nov. 28, 2018, at Ayantaga Street, Mushin, Lagos.
According to the prosecution, the convict sexually assaulted the minor by penetrating her vagina with his fingers.
The offence, the prosecution contended, contravened Section 261  od the Criminal Laws of Lagos State, 2015. (NAN)