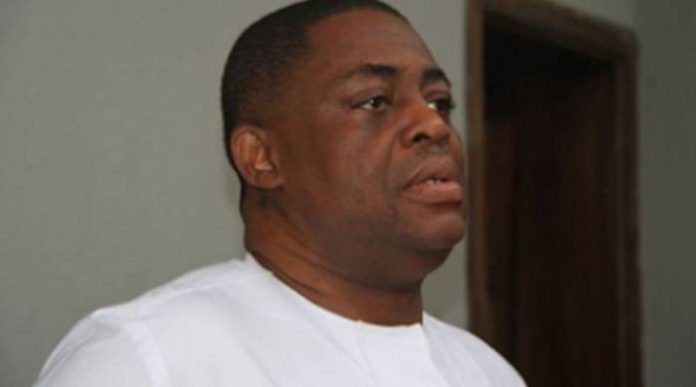 Mr. Femi Fani-Kayode, an APC chieftain, said he was grilled for five hours by operatives of the Department of State Services (DSS) over his tweet on a purported meeting of a presidential candidate with some military officers.
Fani-Kayode who is the Director of Special Projects and New Media All Progressives Congress Presidential Campaign Council (APC PCC), said this while narrating his ordeal in the hands of the DSS on Monday in Abuja.
Fani-Kayode, also a former Minister of Aviation under former President Goodluck Jonathan, told journalists at the APC National Secretariat that he would return to the DSS on Wednesday.
He added that he was also told to report once a week till the conclusion of investigation.
According to him, he has nothing to hide and was impressed by the professional manner in which the DSS personnel conducted themselves.
Fani-Kayode as saying that the five hours grilling was an experience he would not wish even his enemy to go through.
He said that the DSS invited him to explain the Tweet he made concerning the PDP and its presidential candidate, Atiku Abubakar.
READ ALSO: NDLEA Arrests Church General Overseer, 2 Others Over Alleged Drug Trafficking
"Following my tweet, the PDP called for my arrest and detention, saying Atiku never met with the military generals.
"While I was with the DSS, they were very thorough and inquisitive and very professional in their approach, they were polite, reasonable and rational.
"In spite of the ordeal, I felt I was being treated very fairly and that I wasn't being oppressed," he said.
Fani-Kayode also said it was clear that the DSS was not acting under any order.
He added that he regretted some of the things he said in the tweet, which according to him, sent shock waves to some individuals who got hurt by it and brought the appropriate authority to action.
"I spent about five hours. I was subjected to thorough grilling; they were very thorough and highly professional in their interrogation, and I was asked to come back on Wednesday for further interrogation.
"The place anybody wouldn't want to go, I think is the DSS. If I were to do it a second time, I won't tweet this same way," Fani-Kayode said.
Mr. Bayo Onanuga, Director Media and Publicity APC PCC while reacting to the development, said they were all worried when they heard that Fani-Kayode was invited by the DSS for interrogation.
"So we contacted our lawyers and our lawyers followed him to the DSS headquarters.
"If he was detained beyond today, we would have challenged it, we would have taken further steps, but he said the DSS officials were very professional," Onanuga said (NAN)