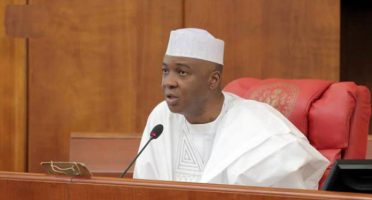 As both chambers of the National Assembly begin the clause-by-clause consideration of the proposed amendments to the 1999 Constitution on Tuesday, Senate President, Bukola Saraki, has described the process as another 'Promise Kept' by the 8th National Assembly.
In a statement by his media office, the Senate President described the constitution amendment process as the fulfilment of a major commitment the 8th Senate made to Nigerians at the commencement of their tenure in 2015.
"We will continue to ensure that all the promises that we have made to the Nigerian people will be kept. It is also our hope that we can get this Amendment sent to the State Assemblies quickly, so that the new amendments can take effect by the new year and well-clear of the political electioneering season.

"This is the first time ever that we are concluding the constitution amendment process long before the election year so that people can objectively participate in the process without looking at the partisan benefits," the Senate President said.
The consideration of the Constitution Review Report scheduled to take all the legislative hours this week is following its laying by the Deputy Senate President, Ike Ekweremadu, and Deputy Speaker Yusuff Lasun in their respective chambers at last Thursday's plenary.
Ekweremadu and Lasun are the chairman and deputy chairman respectively of the Joint Constitution Amendment Committee of the 8th National Assembly.
Key areas of consideration in the Constitution Amendment Report, which includes 27 different Bills, include a Bill to decongest the Exclusive Legislative List by transferring certain items contained therein to the Concurrent List, thereby enabling the States to make laws in respect of those items; a Bill to alter the Constitution to abrogate the State Joint Local Government Accounts and empower each Local Government Council to maintain its own special account; and a Bill to provide the Independent National Electoral Commission with sufficient time to conduct bye-elections and provide grounds for de-registration of political parties.
Others are a Bill that seeks to alter the Constitution to provide for the timely passage of Bills; a Bill that seeks to alter the Constitution of the Federal Republic of Nigeria to provide a timeframe within which the President and Governors shall forward to the Senate or the State House of Assembly names of nominees for confirmation as Ministers or Commissioners; and a Bill to alter section 147 of the Constitution of the Federal Republic of Nigeria, 1999 to provide for the appointment of a Minister from the FCT, Abuja to ensure that FCT is represented in the Executive Council of the Federation.
On Saturday, the Senate also revealed that the Bill to amend the age requirements to run for different offices, which is the objective of the  'Not Too Young To Run' ​ campaign​, is still and has always been a part of the Constitution Review process.