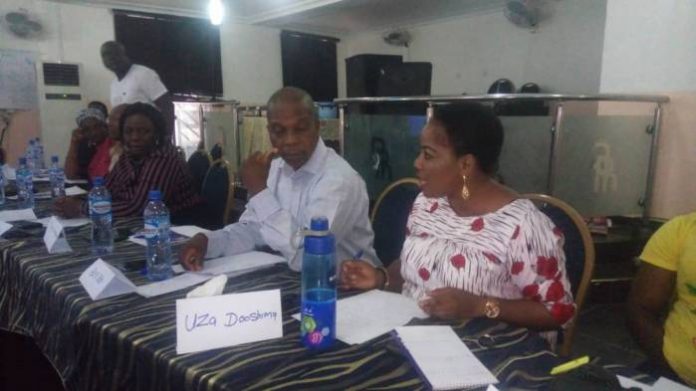 As a way of deepening its peace initiatives in Benue state, an International Non- Governmental Organization, Search for Common Ground, has commenced a three day Conflict Transformation, Human Rights and Dialogue Training for government actors and other key stakeholders in the State.
The Next Edition reports that the three state-level training targets leaders of military, special task forces, representatives of ongoing security operations in the state, high level government officials and relevant stakeholders on conflict transformation and human rights.
The training focuses on topics within the dynamics of herder-farmer and inter-religious conflicts and how to respond to incidences in communities with strategies to prevent attacks and reprisal attacks.
Welcoming participants, the Country Director of Search for Common Ground, Sher Nawaz, restated that the oranization has being working on a peace project tagged, "Transforming the Farmer-Herder Conflicts and Promoting Freedom of Religion and Beliefs in Nigeria's Middle Belt states of Benue, Nasarawa and Plateau.
Represented by the Zonal Coordinator, Olutoyin Falade, Nawaz said the "project since inception has impacted lives and communities with positive changes in relationships, synergy amongst community members as well as community and government institutions for improved peace and security of all; the media platforms are working tirelessly to change the negative narratives in public domain; perceptions of individuals and group have been influenced positively.
"Our Community Security Architecture Dialogue (CSADs) and Peace Architecture Dialogue (PADs) platforms have allowed government institutions to access information.
"We are entering a phase of work that will have more engagement with the Government Ministries, Departments and Agencies in order to give efficient and effective service delivery and adequate responses to threats on peace and security of our state and nation," she said, adding that the workshop will enhance better synergy with government agencies on resolving the farmer-herder conflicts in the state.
The Commissioner of Information, Culture and Tourism, Mrs. Ngunan Adingi who was represented by a Director in the Ministry, Mr. Ben Ebe, described the workshop as apt and promised that the Ministry will continue to partner with the NGO especially in the area of publicity.
Earlier, the Adviser to the governor on SDGs and NEPAD, Mrs. Magdalene Dura thanked Search for their initiative and pledged to sustain support for the project in the state.
Our correspondent reports that stakeholders identified use of illicit substances by youths, proliferation of fire arms, negative effects of climate change and political dominance among other issues as contributing factors fueling conflicts in Benue and urged government and constituted authorities to nip them in the bud.