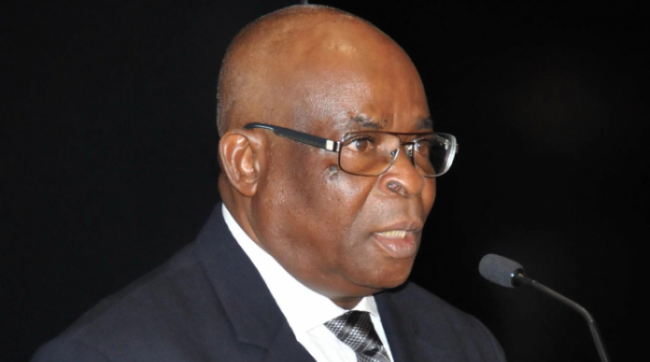 As the controversy rages over the arraignment of Justice Walter Onnoghen, the Chief Justice of Nigeria (CJN), at the Code of Conduct Tribunal (CCT), the Centre For Anti-Corruption and Open Leadership (CACOL) on Wednesday said the National Judicial Council (NJC) does not have initial role to play in the investigation of the nation's number one judicial officer.
Mr. Debo Adeniran, CACOL's Executive Chairman, in a statement issued by Adegboyega Otunuga, CACOL's Coordinator, Media and Publications, said the NJC has neither the technical ability nor the constitutional power to investigate assets declaration matters.
He maintained that it is only the Code of Conduct Bureau (CCB) that was constitutionally vested with such powers and technically equipped for such investigations.
Adeniran maintained that Justice Onnoghen is not being arraigned as a judicial officer, but as a public officer and that he enjoys no immunity not to be so arraigned.
The CACOL boss referred to several views by eminent lawyers and the Nigerian Bar Association (NBA) since the controversy started last week, saying Justice Onnoghen had not denied his refusal or inability to declare his assets as required for all public officers by the 1999 Nigerian Constitution (as amended) and other relevant rules governing Public Officers' operations.
Adeniran stressed: "It should, however, be stated that what most of those chastising the Code of Conduct Bureau (CCB) for arraigning the CJN on refusal or failure to declare his assets before assuming the position of the Chief Justice of Nigeria (CJN), was the provisions of Paragraph 21 (b) of the Third Schedule, Part 1 of the 1999 Nigerian Constitution (as amended) as applicable to the probable arraignment and trial of serving judges.
"This provision insists that such a case must first be reported at the NJC (Nigerian Judicial Council) for investigation and issue a declaration of a 'case to answer' or not on the judicial officer before he/she could then be suspended or made to recuse himself/herself and be made available for necessary arraignment and trial.
"This, no doubt, is to preserve and guarantee the independence of the Judiciary against probable interference or manipulations of any other arm of government."
Adeniran added that it was incumbent to note that where the issue involves offences committed before the assumption of office by the judicial officer or concerns certain criminal offences, like murder, manslaughter, refusal to declare his/her assets or false declaration of such assets, etc., such a judicial officer, including the CJN, could be directly arraigned and made to face prosecution without any recourse to the NJC (Nigerian Judicial Council).
Citing decided cases, he stressed: "It must be expressly stated that if a judicial officer commits theft, fraud, murder or manslaughter, arson and the likes, which are crimes committed outside the scope of the performance of his official functions, he may be arrested, interrogated and prosecuted accordingly by the state directly without recourse to the NJC.
READ ALSO: EXCLUSIVE: FG Orders Onnoghen's Accounts Frozen
On the timing of the arraignment, which some insisted made it smell of political undertone, Adeniran said: "We hasten to add that though this issue first cropped up almost two years ago, there is no such time limit for a criminal offence and only the prosecution could determine when enough proofs and investigation have been gathered to try such cases.
"We could only plead that as Nigerians who have been adversely affected by the ravaging effects of corruption by those at the various levels of government, enough discretion should apply in responding to such issues, irrespective of whose ox is gored."
He recalled that the CJN was alleged to have made five different cash deposits of USD10, 000 each on March 8, 2011, into Standard Bank Account 1062650, on June 7, 2011, he made two (20 separate cash deposits of USD5, 000 each, which was followed by another four cash deposits of USD10, 000 each, on June 27, 2011, made another set of five separate cash deposits of USD10, 000 each and made four other cash deposits of USD10, 000 on June 28, 2011.
"All these were ethical crimes committed, not in the course of performing his duties, but as a public officer that ought to declare such available funds/deposits," Adeniran added.