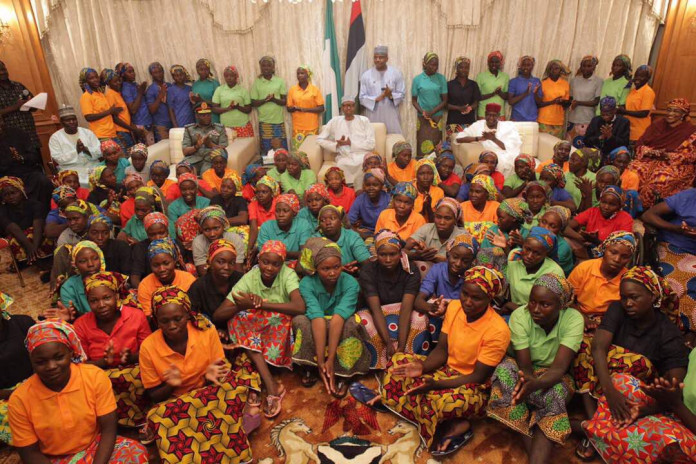 The Federal Government has warned members of the public, particularly journalists, to avoid asking Chibok girls to recount their ordeal in the hands of the terrorists group, Boko Haram.
Asking them to recount their experiences, the government said, was capable of opening old wounds which the government had been trying to heal.
The Minister of Women Affairs and Social Development, Hajiya Aisha Alhassan, made the plea on Friday in Abuja against the background of their plan to integrate into the society next month as students.
"It is time for them to get and enjoy the best. I am delighted that all the 106 girls will be resuming school at AUN foundation school in September," Alhassan said when briefing journalists on the update on the recovery of the released girls in Abuja.
The minister said rather than suffer any form of stigma the girls had become survivors and heroes in their own right.
She said the government was in partnership with the American University of Nigeria (AUN) and other development partners, along with some private companies and Victims Support Fund to restore their dignity.
Read also: JUST IN: Nigeria Immigrations Generated N55 Billion in 2016, Seven Million Nigerians left Country in Four Years – Report
The minister said the partnership would be supporting the girls for their foundation course in September.
According to her, the choice of AUN was inspired by the resounding success recorded by the institution's new foundation school initiative in grooming the 24 girls who initially escaped from captivity.
She said the case of the 24 Chibok girls had challenged the commitment and strategy of government with regards to the education of the 106 girls.
Alhassan who said the girls had not been in solitary confinement explained that the girls had to be properly observed to ensure that they had no form of abnormality.
"Like every other young Nigerian girl, the need to make up for educational loss suffered on account of their prolonged isolation while in captivity had been of paramount concern to this government.
"To date, education and livelihood opportunities of the Chibok girls since their return have been enhanced through remedial and tutorial engagement as well as vocational skills training.
"This would not only make them academically sound but also independent."
She added:  "To aid their recovery, recreational activities and reunion with family have been the key tools used to support the girls.
"They have had interface with their communities and spent Christmas holiday in Chibok. This was a gratifying experience for both the< girls and the families."