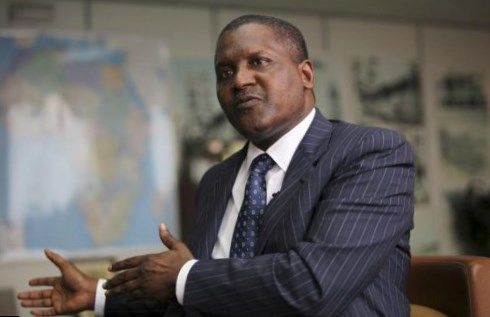 By 2015, Africa's richest man, Aliko Dangote, said he will be investing a whopping $50 billion in the United States and Europe.
The Nigerian billionaire, who spoke to Bloomberg Markets, also said his investment interests in Europe and US will include energy and petrochemicals, among others.
Mr. Dangote said he will make inroads into European and American markets by the year 2020 when his $11 billion oil refinery and $5 Billion investments in agricultural projects in Nigeria are completed.
During an interview with the foreign media, he spoke extensively about his future business plans and his interests in English Football, particularly his darling club, Arsenal.
"From 2020, over 60 percent of our investments will be outside Africa. This is to ensure that we have a balance," said Mr. Dangote.
As part of measures to capture other markets, Mr. Dangote said he will consider investments in Asia and Central America.
Read also: Chibok girls: Don't open their wounds as they integrate, FG begs public
In 2015, Mr. Dangote began building a 650,000 barrel per day oil refinery in Lagos.
Apart from the ongoing oil refinery project, the richest man in Africa last month indicated he will invest up to $4 billion in sugar, rice and dairy production in Nigeria within the next three years.
Mr. Dangote insisted that investments in agriculture and food security in West Africa are the way to go for him and his conglomerate.
"When you look at it, especially in Africa, a majority of countries depend on food importation," he said.
"There is no way you have a population of over 320 million people in the West African sub-region and have no self-sufficiency in food."
"So, for me, the< first thing to do is food security. I believe Dangote Group is doing the right thing to drive this trajectory."
Asked whether he has plans to enter Nigeria mainstream politics, Mr. Dangote simply replied, "I am not interested."