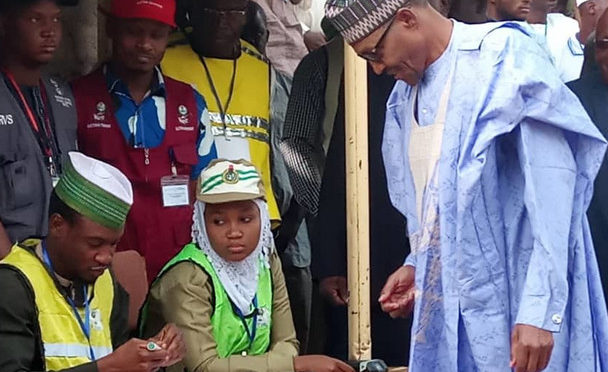 President Muhammadu Buhari and wife, Aisha on Saturday cast their votes as the presidential and National Assembly elections get underway.
The first family arrived the polling centre 003 in Daura at about 8am and by 8.06am, the duo had completed their accreditation.
Mrs. Buhari was the first to cast her ballots while President Buhari took a little more time before he came out of the booth to drop his ballots.
Shortly after casting his votes, Mr. Buhari told journalists the exercise was smooth and easy.
READ ALSO: Elections: Tinubu Denies Involvement with Card Reader Company
Information available showed the presidential candidate of the Peoples Democratic Party is yet to arrive Mayo Belwa where he is expected to vote but electoral officials are said to be on ground.
In Lagos VGC where Vice President Yemi Osinbajo is expected to vote, neither electoral officials or Mr. Osinbajo has arrived the polling centre.
However, accreditation and voting is said to have started in many parts of the country.