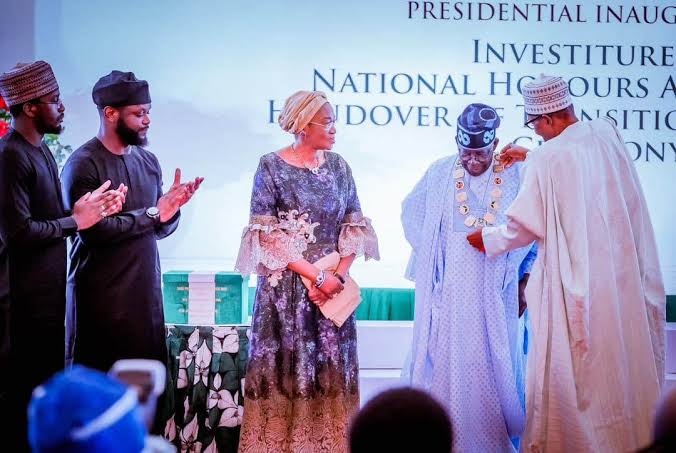 President Muhammadu Buhari has conferred the national honour of Grand Commander of the Order of the Federal Republic of Nigeria (GCFR) on President-elect, Sen. Bola Tinubu.
Vice President-elect, Kashim Shettima, was also conferred with the national honour of the Grand Commander of the Order of the Niger (GCON).
The investiture, performed on Thursday at the State House Banquet Hall, Abuja, is in accordance with the tradition of honouring all Nigerian presidents and vice presidents respectively.
The ceremony is in line with the National Honours Act Cap N43LFN 2004.
Vice President Yemi Osinbajo, First Lady Aisha Buhari, Senate President Ahmed Lawan, Speaker, House of Representative Speaker Femi Gbajabiamila and National Chairman, All Progressives Congress, Abdullahi Adamu were present at the event.
The event featured the introduction of Transition Document and Presentation of the Scorecard of the Buhari Administration by Boss Mustapha, Secretary to the Government of the Federation and Chairman, Presidential Transition Council.
There was also the Transfer of Baton of Service by President Buhari to the president-elect.
Three key documents were handed over to the president-elect by the president—a briefing note on each of the nine priority areas; a compendium of projects and programmes implemented by the outgoing administration, major challenges and advisories; policy update.
In his address at the event, Buhari congratulated Tinubu and said he had no doubt that Nigeria would continue to thrive and achieve new heights under his leadership.
"I equally extend my congratulations to the vice president-elect; your wealth of experience in governance, your unwavering commitment to the well-being of the Nigerian people, and your exemplary leadership during challenging times as Governor of Borno, has made you a deserving candidate for this position.
"I have full confidence that you will serve our nation with utmost dedication and integrity.
"Today, with the authority vested in me, as the President and Commander-in-Chief of the Armed Forces of the Federal Republic of Nigeria, I have conferred the National Honour of GCFR on Bola Tinubu and that of the GCON on Kashim Shettima respectively."
Buhari expressed belief in Tinubu's abilities and tasked the incoming administration not to forget the immense responsibilities that came with leadership.
According to him, the challenges facing Nigeria are significant, and it is the duty of the president and vice president to address them with courage, wisdom, and compassion.
He said that there was need to remain committed to the principles of good governance, transparency, and accountability, as these were the foundations on which Nigeria's progress and development relied.
"President-elect Tinubu, you have a long and illustrious track record of public service, marked by your exceptional achievements in various capacities.
READ ALSO: Yul Edochie Flaunts Judy Austin's Pregnancy Photo Shoot
"Your transformative leadership in Lagos State, where you left an indelible mark in the areas of infrastructure, education, healthcare, and economic development, speaks volumes about your dedication to the welfare of the Nigerian people.
"Your commitment to fostering unity, irrespective of ethnic or religious differences, is a testament to your statesmanship and visionary leadership.
"This administration from inception has faced security challenges such as insurgency, oil theft, kidnapping as well as corruption which has eaten deep into the system.
"With political will and support of many Nigerians, especially our dogged Armed Forces, insurgency, terrorism and kidnapping have been reduced to their barest minimum while corruption has been tackled headlong."
Buhari said that in spite of the aforementioned challenges, his administration had made economic gains over the years.
He said that in spite of the turbulent times and global economic meltdown occasioned by world oil crisis and most recently, the COVID-19 pandemic, Nigerian economy had remained afloat and strong.
He said that the Second Niger Bridge, renamed Muhammadu Buhari Bridge, had been completed and commissioned.
According to him, no administration in Nigeria's modern history has given so much attention to roads like his administration has done in the last eight years.
"In all, we have been able to construct and complete over 8,352 kilometres of roads across Nigeria."
Buhari expressed gratitude to the Nigerian people for their unwavering support and trust throughout his tenure as president and congratulated Tinubu and Shettima for their well-deserved investiture.
In his response, Tinubu described Buhari as "Mr Democrat" and thanked him for bestowing the nation's highest honour on him and the vice president-elect.
Tinubu said that the transition documents handed over to him enumerated the efforts of the past eight years.
"The documents constitute an impressive and noteworthy scorecard.
"You have made history and no one can deny your contributions to our national development; your devotion to progressive and democratic governance is unassailable.
"I stand here today renewed in hope and dedication to our national greatness; I also feel full obliged that this moment is our moment and I know what it represents.
"This occasion is a proof that Nigeria is a vibrant and true democracy," he said.
He applauded Buhari for having the courage to recognise the injustice of the annulment of the 1993 election by designating June 12 as democracy day and bestowing the nation's highest honour on late MKO Abiola.
State governors, members of Federal Executive Council, members of the diplomatic corps, party chieftains, members of the National Assembly, service chiefs, traditional rulers also attended the event.(NAN)