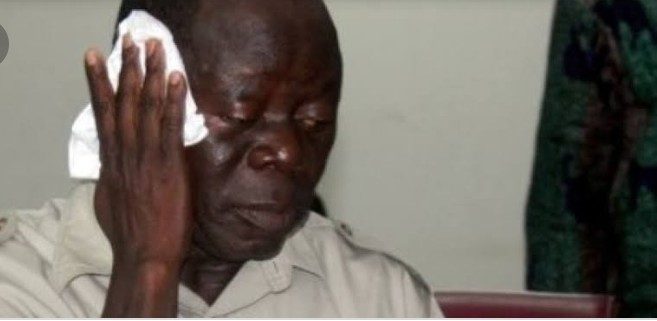 The Coalition of United Political Parties, CUPP, has expressed shock over the $55million bribery allegations against the National Chairman of the All Progressives Congress, APC, Mr. Adams Oshiomhole.
The Directorate of State Security, DSS, had recently released a report alleging that Oshiomhole could have received as high as $80million in bribe from Party aspirants noting however, that so far, there was conclusive evidence and proof that he received about $55million.
A statement issued by the Chairman, Action Peoples Party and National Spokesman CUPP, Ikenga Imo Ugochinyere, said the group condemned "attempts by the President and his handlers to suppress the report on the premise that it would negatively impact on the reelection of the President as Mr. Oshiomhole is already threatening to pull down the entire Party if he is not allowed to have his way."
The statement said further: "Mr. Oshiomhole claims that the funds he received were not for personal use but an ingenious mechanism meant for funding the re election of President Buhari.
"From the report, the largest payments came from a national leader of the Party in the South West who allegedly paid over $15million to purchase the Governorship slots of Lagos, Ogun and Oyo States.
"Senate tickets were sold for between $100,000 to $250, 000 while the House of Representatives ticket were purchased for between $50, 000 to $100, 000. Governorship tickets went for a flat rate of $5million.
"We are aware that Mr. Farouk Adamu, a former House of Representatives member and a known very close confidant of the President was involved in all this with Oshiomhole and he was alleged to have led the team that persuaded the President to let things be as his campaign would be a beneficiary of the largesse and that it would fragment the party if prosecution is allowed at this time."
READ ALSO: Losing Sleep over The Economist, Other Predictions
The opposition coalition called for the immediate prosecution of Oshiomhole and Adamu for their involvement in what it termed "unbridled bribery" during the just concluded APC primaries.
It also called on President Muhammadu Buhari "to rise above petty politics" and hand over the DSS report to the EFCC immediately so that prosecution can commence adding that the case on issue was a true test of the integrity of the President.
The statement said further: "We must point out at this stage that the President Muhammadu Buhari regime is now clearly an assemblage of audacious criminals and corruption lovers of unprecedented proportions.
Nigerians are still striving to get over the N5.8billion NEMAGate scandal wherein the House of Representatives has directly indicted the Vice President, Prof Yemi Osinbajo and now the National Chairman of the Party is enmeshed in another scandal. The massive corruption allegations in the National Health Insurance Scheme (NHIS) is still fresh, while the billions of dollars illegally withdrawn and stolen from the NLNG as uncovered by the Senate is still oozing its stench on the so called integrity of President Buhari.
"We call on the Nigerian people to continue the mobilisation to vote out this tyrannical, crassly corrupt and lifeless regime come February 16th 2019."