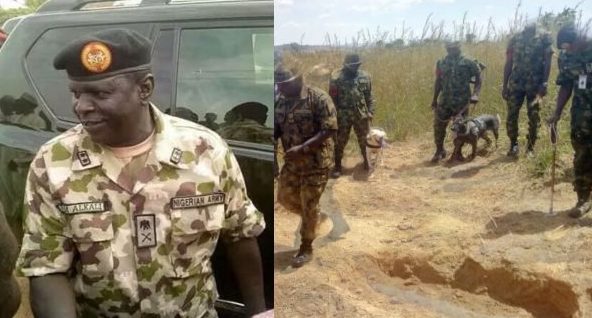 The Nigeria Army says it has recovered the body of Maj.- Gen. Idris Alkali (rtd), the immediate past Chief of Administration, Army Headquarters Abuja who went missing on September 3.
The Gen. had disappeared on his way to Bauchi after leaving Abuja.
The body was recovered from an abandoned well in Guchwet, Shen District of Jos South Local Government.
Brig. Gen. Umar Mohammed, Garrison Commander 3 Division Nigeria Army, said that they were led to the location of the body by one of those earlier arrested in connection with crime.
He disclosed that the operation was jointly carried out by men of the Nigeria Police and the Fire Service.
Umar said that with the recovery of the body, his team was left with one task, to ensure that those declared wanted in connection with the crime were brought to book.
"The COAS gave us three terms of reference, to get the missing senior officer dead or alive, to recover his car and to ensure that those who committed the crime were punished.
READ ALSO: Benue CSOs March, Demand Justice For 13-year-old Ochanya
"We have today fulfilled the second condition; we will not rest until we meet the third.
"We want to assure those that are on the run to know that we are on their trail and we must get them," he vowed.
Following Alkali's disappearance, the Chief of Army Staff (COAS), Maj.-Gen. Tukur Buratai, set up an operation to search for the missing general. After a thorough search and investigation, the army  narrowed their search to a mining pond in Dura-Du in Jos South local government of Plateau.
It would be recalled that after two weeks of draining the pond, the general's car and two others were recovered from the pond.
The remains of the missing general was moved into an ambulance after military parade by his course mates.