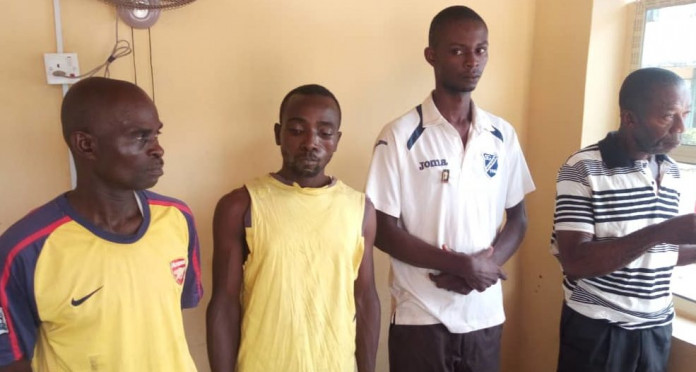 The Benue State Police Command has paraded four more suspects who allegedly sexually violated young girls in their communities in the state.
The suspects were arrested a day after civil society and concerned citizens stated a protest over the death of a 13-year old Elizabeth Ochanya.
Miss Ochanya died from complications after she was serially violated by her guardian and his son in Ugbokolo Local Government area of the state.
Parading the four suspects, the Police Public Relations Officer (PPRO), Moses Yamu said one of the suspects was arrested after a young girl told her teacher she was molested by her neighbor.
The other three were arrested following complaints by the victims to the police.
Speaking to journalists, Mr. Yamu said, "Their arrest did not come as a surprise because there were cases that have been happening before and I think the Ochanya's case has created much awareness to members of the public and encouraged them to come and report.
"All these four cases are reported after the Ochanya case. The society is not doing enough and members of the families are not also doing enough.
READ ALSO: Shiites: Deal decisively with them, I-G tells Commissioners of Police
"Rape case is not a case you sit and settle at home with family members. It will keep on happening because no punitive measures have been given.
"We want to use this medium to encourage the public especially parents and guardians to report such cases to the police. I want to assure that any case reported to the police will be meticulously investigated," he said.
During the parade, two of the four alleged suspects admitted to molesting the young girls while the others denied the allegation.
One of suspects insisted he is innocent saying he was set up by three of his Igbo friends.
"Since I was born, I have never done that. Even my master whom I served for six years can testify that if I say that something is white, it is white," he said in self-defense.
The police have since arraigned the four suspect before a magistrate court.