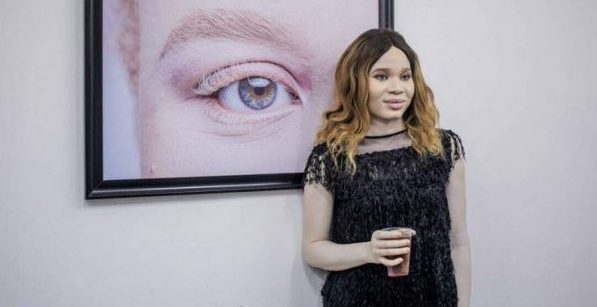 Onome Okagbare Akinlolu Majaro is the co-founder of Onome Akinlolu Majaro Foundation (OAM Foundation), which promotes and protects the interest of Persons with Albinism (PWA). In this interview with our Assistant Editor, CHINWE MADUAGWU, she talks about the discrimination and stigmatization PWA experience, myths about albinism and her foundation.
TNE: What informed the establishment of the Foundation?
My husband and I founded the Foundation to create awareness on Albinism and to change negative perceptions about Albinism in Nigeria.
TNE: How long have you run the foundation and what has it been like?
The Foundation has been in existence for about two and half years and it's been amazing. I've met people with Albinism and I've heard a lot of stories, stories that are mind blowing. I've interacted with a lot of people. It's really been awesome.
We started with a campaign titled 'Beyond the Complexion,' it's still our major hashtag. In every campaign, we still use #beyond the complexion, but for the very first one we made branded T-shirts with inspiring words like 'another shade of black', 'Light Skin Africa', 'I'm not my skin' etc and it really did well.
TNE: What was it like growing up as a person with albinism, though then it was plain albino?
Growing up was actually pretty cool for me. I had a lot of love and support from the family. I will always say that the core of the family is very important, love and support from the people closest to you.
I was not your average albino, I went to the best schools, I was chauffer-driven and I had the love and support of my family. Occasionally though the name calling got to me, people will say "oyibo pepper" and I would withdraw to myself, but apart from that, it wasn't so stressful or emotionally draining growing up.
TNE: So you were more like the exception to the race?
Yes, I'm the exception to the rule.
TNE: You said you've heard some mind blowing stories in the course of running the foundation, perhaps you've also heard some of the myths surrounding Albinism. If so, can you share some of them with us?
One of my favourite myths is that albinos do not eat salt, which is not true because we need the iodine in salt. But people just believe that if you take salt it will cause black spots. So anytime we drive campaigns we tell people that the black spots people with albinism have on their skin is as a result of exposure to the sun. It has nothing to do with salt.
There's another myth that the mother of an albino child had an affair with a white man. We've been trying to clarify that albinism is a genetic condition, it's not about infidelity, it's purely genetic. Mother and father must have the gene for their child to come out an albino.
Also, when I did my research, I heard that albinos are not intelligent that albinos are infertile and that albinos do not see well; this one is true because we have sight difficulties. But there's a myth that we don't see during the day but only at nights. I can understand that myth because at night the sun is down and we are not squinting a lot but it doesn't necessarily mean that we only see at night. These are some of the myths we've been trying to correct.
TNE: How much inroads would you say your Foundation has made in correcting some of these myths not among people with albinism but the general public?
We did an online campaign last year to celebrate the international albinism awareness day and our focus was myths versus facts and we promoted it online. It actually did very well. We put it on all our social media platforms and got other people to share. We were able to pass the message across to everybody basically. If you were online as at that time, we shared it on our platforms, our models shared it on their platforms, and they got their friends to share it on their own platforms.
We also hosted PWAS and the press where we talked about albinism, the myths and the facts.
TNE: Are there particular or peculiar health challenges a person with albinism faces simply because of the colour of their skin?
I won't say it's a health challenge per se. I know our eye sight is terrible, I don't know any albino who does not use glasses. Well, I know that to every rule there's an exception but 80% of my friends are albinos and they all use glasses to see. Our sight isn't fantastic, that I know for sure. Most PWAs would love to drive but they can't because we're short sighted or we squint a lot.
I also know that we are prone to skin cancer and that's why we always preach – use sun screen, stay away from the sun, use your umbrellas. I know that with the Nigerian economy one must go out and hustle so we always preach that if you have to go out always try your very best to protect your skin from the sun.
It's one thing to go out there and hustle and it's another thing to go out there and the people you are trying to sell yourself to are put off by you because you would have spots and you would be pink. With us and as my mom would always say, packaging is everything, but imagine how far an albino has to go.
I always preach that you have to look good; you have to dress the part. Some employers will just look at you and they'll be like our customers may see you and not like it, so we can't work with you. I tell PWAs, if you're well packaged it saves you a lot of stress. I personally believe that if you are dressed well, it opens a door for you.
TNE: Talking about work, did you ever experience discrimination while looking for a job because of your skin colour?
When I started applying for jobs, I could notice certain reactions when I entered a room; like the panel of interviewers would be taken aback. I could notice the way they'd adjust their facial expressions. I realized that there were sometimes I'd go for a job interview and I know I'm very good at my job; I'm very good at communication and I'll give them good examples and they'll get back to me and say unfortunately, we are sorry we can't take you. Now I don't want to say it's because of my complexion, but I personally know it's because of my complexion, just because of the countenance. You know you'll enter the room and people will try and adjust their expressions but in their minds they'll be like 'okay can we employ this one'?
I have heard stories from other albinos that 'we've tried applying for jobs but we can't get any and we know it's because of our complexion.' One of my friends told me that she had once gone for an interview and they told her point blank 'look you are a PWA, we can't employ you,' don't bother.
Nigerians try to say they are a little bit more accepting but based on stories I've heard, I know not everybody's that accepting to the point of employing an albino.
TNE: Where would your foundation come in with regards to this kind of discrimination?
We are trying to reach out to organizations and employers to accept PWAs, if they are good. Set aside the complexion, if you know the person deserves the job, employ him/her. We really try to push that message in our campaigns. When we go out to talk to organizations on albinism, we tell them that if they meet someone that's good for the job they should accept them but again I'll watch their facial expressions and they'll be like hmm, we will. But I know they will not tell me to my face that they won't.
But honestly, I think it's getting better because I know PWAs that are employed and thriving in their various industries. I know PWAs who are breaking barriers and boundaries. I always tell PWAs that they have to be two steps ahead of a dark skinned person; for instance, when you go out for an interview, you have to know about the organization, you have to speak well, you have to dress well, you have to be punctual because at the end of the day, no matter how good you are, if they're worried that their clients will be put off by you, they will not employ you.
TNE: What are the long term goals of your foundation?
We hope that the stigmatization and discrimination against albinos will drop to the barest minimum. Every time we run a campaign or organize an event and talk to people about albinism, some people will be like, but you guys are not albinos, we do not discriminate against you guys. Then I will ask; ' do you have an albino friend and the person will respond well now you are my friend and I will ask, can you date an albino and the person will say madam I'm not sure.' I know that even dark skinned people have challenges in relationships too, but we are hoping to get to the level where albinos will not have any problems dating anyone, they will find love, they will be accepted, they will get jobs on merit not because of the colour of their skins and they will go to school like every other children.
We are trying to educate parents that just because you have an albino child it doesn't mean that child will not do great things for you, we've had to deal with situations where parents with albinos will send the other children to school and keep the albinos at home. They are like what's the point? Why do we have to waste money on this person? Some will just hide their children. We are trying to encourage parents to provide the basic foundation of love and care to enable the albino child endure teasing and insults from outsiders because if the albino child has the knowledge and feeling that he/she is loved at home, this generally will go a long way to eradicate self-esteem problems in the child and depression. I have always said that Nigerians are in denial to face the fact that depression is real.
We have an empowerment programme for women. We have trained two ladies on how to bake cake. One has started her own side business and the other one is working for the person she learnt from and she's doing so well and she loves it. I keep tabs on them. We have also granted a scholarship to an eight year old girl, Divine. She's in primary school; she's brilliant and has a sound mind. She was one of our lead characters in a movie we produced to create awareness on albinism. The name of the movie is 'Beyond the Complexion' and this year, we partnered with Damilola onofuwa, to host an exhibition. I think it's the first exhibition on albinism in Nigeria and it had a large turnout.
Also, we've paid medical bills, paid for JAMB form and lesson fees for a young lady who was finding it difficult to do that. We also partnered with Lagos University Teaching Hospital (LUTH), to provide glasses for PWAs last November as a celebration of our second anniversary. This year, we really hope to do more, like providing sun screens and other empowerment programmes. Our logistics and empowerment ambassador is very picky. Because we are self funded, we prefer to put our money where there is really a need for it, hence the pickiness. Next year, we want to pay for WAEC and JAMB and maybe pay for lessons, we would like to empower two or three other PWAs and we would love to grant two more scholarships. We also want to do a campaign to reach out to schools, churches, organizations, hospitals and maybe the ministries of education and health.
I have spoken to some doctors to help direct women who give birth to albinos to us so that we can talk to them because most parents get scared when they deliver and the baby turns out an albino. My mum said she was shocked when she gave birth to me. We really want to offer helping hands to parents telling them that we can help their children when they are facing stigmatization or when they just want to see somebody like them. We are really hoping that parents and hospitals will be open to that. We also want to establish a mentorship programme for albinos. For instance, if one of us loves copywriting we'll introduce him or her to a professional albino copywriter or whatever the interest, if we don't have a professional in that area, we will introduce the person to a dark skinned professional, someone to mentor and coach him/her.
TNE: Talking about myths, I heard that somewhere in Tanzania, the body parts of albinos are sold for money making. Is that true?
Yes, they sell the parts for as high as a thousand dollars. But most of these are just Ponzi schemes. I have friends in Tanzania that think that phrase is crazy. The body parts of an albino will not make anybody rich.
TNE: You talked about what you do online, but there are still quite a large number of people who are not online, so do you plan to push your message through the traditional media and I say this because I know that churches and mosques are veritable avenues for pushing change; do you think you can work with them to expand your audience?
Thank you for bringing it up; I have actually considered reaching out to churches, but somehow I'm confused on how to pitch the idea to them. But I think I'll start with my own church now and see how they accept it, after that, I'll reach out to our ambassadors in the churches and mosques to spread the word to their pastors and imams to see how they accept the message. One of our ambassadors has actually given a talk on albinism in her church.
TNE: Do you reach out to people in the slums?
Last year we reached out to some people in the low income environments and we told them to come to the venue of our event and we took care of the logistics and meals. Every time we have an event if we can't go to the slum areas, we reach out to them to come to us. Though one day I would actually love to go to these places and experience what is going on there first hand.