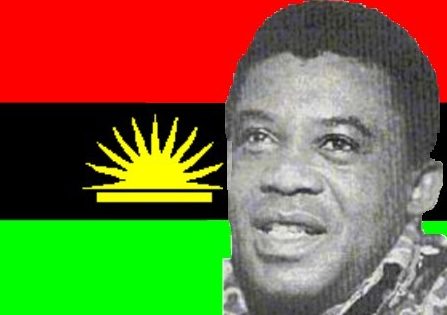 A frontline politician in Akwa Ibom State, Elder Enefiok Ekefre, has raised fresh memories and concern over the death of Gen. Phillip Effiong, chiding the Igbo for allowing him die as a rebel without honour.
Gen. Effiong, the vice president of the defunct Republic of Biafra died 14 years ago.
Ekefre lamented in an interview on Monday that the Igbos looked the other way and allowed Gen. Effiong who made the historic declaration that ended the bloody civil war to live and die a Biafra rebel while General Odimegwu Ojukwu died a Nigerian Army General.
"Gen. Philip Effiong, an Ibiono Ibom man, was the Vice President to Ojukwu; Mr. M. U. Akpan was the Secretary to the Government of Biafra (SGB) also from Ibiono; Gen. Effiong signed the instrument of surrender but when the Igbo  were talking of payment of gratuity and pension to the Gen. Ojukwu they refused to mention Gen. Effiong.
"He lived and died a Biafran military officer but Ojukwu's rank was restored with salaries and gratuity paid from 1966.
"Today the Igbo are complaining of marginalisation and oppression forgetting that justice and injustice should not be selective," he lamented.
Ekefre recalled that when the Biafra's military resistance collapsed, Ojukwu fled to Ivory Coast after handing over the administration of the Biafra Republic to Gen. Effiong.
"It was the same man (Effiong) who signed for the unity of this country but he died without consideration.
"It was Gen. Effiong that Obasanjo took to Dodan Barracks to meet with Gen. Gowon where the document to end the war was signed," he said.
He advocated for compensation of the family of the Late Gen. Effiong noting that in the spirit of true reconciliation and justice what was done to Ojukwu should be done to Gen. Effiong.
Speaking on the agitation of the Indigenous People of Biafra (IPOB), Ekefre said the agitation is ill-timed.
According to him, the Igbos had a President, Goodluck Jonathan from the South and Igbo man as Senate president, Secretary to the Federal Government and the Minister of Finance and Gen. Azubike Ihejirika  as Chief of Army Staff, yet they could not ask for their republic.
He lamented that the South-South, South East and South West were not united which was why they all went to the National Conference with different agenda.
"When President Jonathan inaugurated the national conference, the Ibos went to the conference with the Ibo agenda, Yoruba went with their own agenda while the core South South went with their various ethic agenda while the entire North with Hausa, Fulani, Kanuri and even the Tiss went with one northern agenda. They needed power which they have got. You can't get what you didn't ask for."
The politician lamented that even though Jonathan had reasons for the conference he inaugurated, he could not put together moral courage to implement even a portion of the recommendations until he was voted out of office.