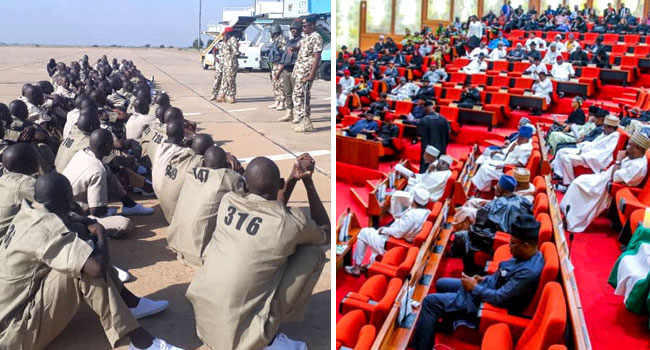 A bill seeking the establishment of an agency for repentant members of the Boko Haram terrorist group has passed first reading in the Senate.
The bill titled, 'National Agency for the Education, Rehabilitation, De-radicalisation and Integration of repentant insurgents in Nigeria (Est, etc) Bill, 2020 (SB. 340)' was sponsored and introduced during Thursday's plenary by the Senator representing Yobe East District in the Senate, Ibrahim Gaidam of the All Progressives Congress.
According to Gaidam, who is also the immediate past governor of Yobe State, the bill is aimed at creating a national agency that would see to the rehabilitation, de-radicalisation, and integration of repentant insurgents in the country.
READ ALSO: Trial of Some Boko Haram Suspects Soon To Commence – Army
Gaidam's state is one of the worst-hit states by insurgents in the north-east geo-political zone.
According to reports, the Nigerian military is currently rehabilitating over 1,000 insurgents in various parts of the North-East, while the Nigerian Government has reportedly released more than 1,400 self-confessed Boko Haram terrorist back into the society since 2018.
Meanwhile, many Nigerians have criticised the Federal Government's de-radicalisation programme which it commenced in 2016.